Liabilities over 1,000cr, Evaly planned to be announced as bankrupt, Rassel confesses to Rab
BI Report || BusinessInsider
Published: 18:56, 17 September 2021 Update: 22:13, 17 September 2021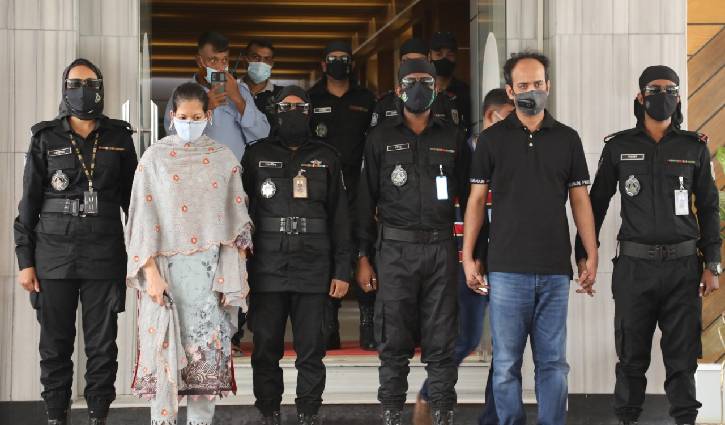 Photo: Business Insider Bangadesh
Evaly's total liabilities to its customers and suppliers are over Tk 1,000 crore, Mohammad Rassel, managing director of the controversial e-commerce platform, confessed it during an interrogation of Rapid Action Battalion on Friday.
However, Rassel claimed, he possesses Tk 30 lakh in his bank account, Rab's Legal and Media Wing Director Khandaker Al Moin came up with the disclosure during a press conference held at its Uttara headquarters this noon.
Rassel told the elite force that his liabilities to the customers and suppliers stood at Tk 403 crore in February but, during the interrogation, he failed to give any answer how he will repay the owes, Moin said.
"Rassel had a plan to announce Evaly as bankrupt as he failed to meet his customers' liabilities," Moin quoted Rassel.
Rab arrested Evaly Managing Director Mohammad Rassel and his wife Shamima Nasrin in a raid at their Mohammadpur residence on Thursday.
The Evaly couple has begun the business through a dishonest policy to shift old customers' liabilities to new ones, the Rab official said.
They had a plan to create a brand image of the company and attempt to earn a huge amount of money by selling it out to an international level established company, he said quoting Rassel.
They began the business in 2018 and bought land properties worth Tk eight crore in Savar, on the outskirts of capital Dhaka, through this means.
Using the customers' money, they bought at least 25 to 30 cars and they used a luxurious car for personal purposes, according to the Evaly couple.
Mohammad Rassel and his wife Shamima Nasrin were sued on charges of fraudulence and harassment on Thursday.
Arif Baker, a customer, filed the case against the duo with the Gulshan Police Station at around 1:30am, AnindaTalukdar, sub-inspector of the police station, told the Business Insider Bangladesh.
In his case statement, Baker said he paid Tk 3.10 lakh to Evaly through online banking between May 29 and June 16 to buy some products from the ecommerce platform.
The products were supposed to be delivered within seven to 45 days after deposition of the cash but, the Evaly authorities embezzled the money without ensuring the delivery, Aninda Talukdar, also duty officer of the police station, said quoting the case statement.
Earlier on September 5, Baker contacted the customer care centre of the Evaly to get delivery of products but failed.