Covid-19 wanes keeping its legacy strong in city
Sazal Saik || BusinessInsider
Published: 17:08, 17 September 2021 Update: 17:45, 17 September 2021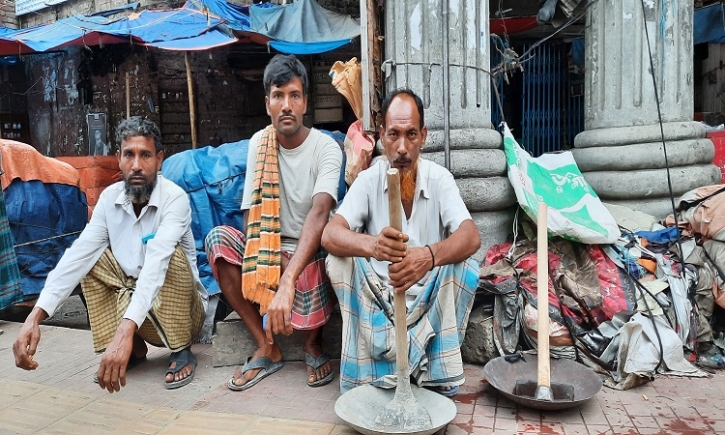 A group of construction workers were seen sitting under a Banyan tree at the Town Hall Market of Mohammadpur and looking for any man approaching them. Photo: Business Insider Bangladesh
When businesses have started returning to normalcy after reopening following withdrawal of coronavirus lockdown by the government, day-labourers are still living in agonies.
They are confronted with vast darkness and an ocean of frustration.
"Who will give me a job, where will I go and how will I manage my livelihoods?" asked Hashem Ali, a construction worker as he shared his bitter experiences to the Business Insider Bangladesh, recently.
Hashem and a group of construction workers were sitting under a Banyan tree at the Town Hall Market of Mohammadpur and looking for any man approaching them.
Beneath the canopy of the huge banyan tree, they sometimes looked oblivious and their faces were full of frustration. They are piecemeal construction workers by profession. They are now passing their days amid a cruel hardship due to the pandemic of the coronavirus.
Hashem Ali hailing from Bhola said after the outbreak of the coronavirus in 2020, his house owner drove him out as he failed to pay the rents and then he left Dhaka along with his six-member family for Bhola.
Later, Ali said, he came back to Dhaka and rented a house with Tk 3,000 in Mohammadpur area to begin his fight for a living.
"The coronavirus has burned down our fate. We sit here straight until 2pm from early in the morning every day. Sometimes, we are hired but many times we remain idle," he said.
"Even if I remain jobless, my personal expenses go on. I need Tk 150 to Tk 200 per day to have a meal and snacks when I am out of home. How will I manage the expenditure if I remain unemployed?"
Ali told this correspondent that he had never faced such a bad time during 25 years of his working life.
"I got only three piecemeal jobs in the last one month, whereas, I used to get work every day before the coronavirus outbreak. I saw, employers would engage in a competition to offer more during hiring construction workers. Now, we don't see an employer in the whole day," Ali said.
Nirab, team leader of a six-member group, said he joined the construction works with only Tk 80 on a piecemeal basis long ago and he was then an assistant to the chief mason.
Now a chief masonry gets Tk 900 on a daily basis while his helper makes Tk 700, Nirab, a 50-year old man said as he shared his experience to this correspondent.
"I have to pay Tk 3,500 per month as house rent alongside meeting all necessities of my four-member family. We, the construction workers, are going through a very bad time," he said.
Like many others Nirab also borrowed some money from a micro-credit lender to support his life.
"I borrowed thousands of taka to live. I need weekly installment to pay but I have been failing to pay the installment. My loan now stood at Tk 85,000 with interest," Ali said.
A number of construction workers left the capital Dhaka after failing to pay their home rents while many of them were ousted from their homes following rental failures, he said.
While talking to the correspondent, Md Abdur Razzak, general secretary of Imarat Nirman Sramik Union, Bangladesh, said there are over 35 lakh of construction projects in Bangladesh and most of them are facing extreme financial hardship.
They get low wages. They do not have any social safety net at their work stations and they are not entitled to any compensation or health care facilities, when they remain unemployed.
"The state does not see us either…" he said.