DSEX falls below nervous line after three sessions
BI Report || BusinessInsider
Published: 14:56, 7 June 2021 Update: 19:11, 7 June 2021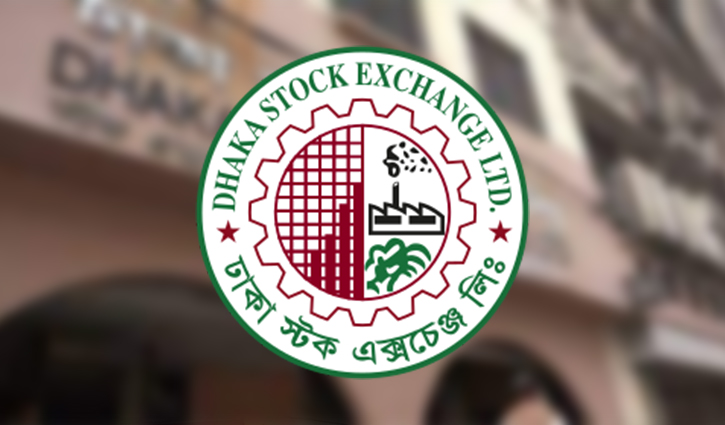 Dhaka Stock Exchange logo
Stocks closed sharply lower on Monday with the key index falling below the nervous line of 6,000-level.
The market opened mixed in the morning and continued to decline on profit-booking selling off on insurers, ceramics, cement, and banks.
The benchmark DSEX index lost 62 points or 1 percent to close at 5,975, scaling back from a 39-month high of 6,038 in the previous session. It crossed the psychological barrier on Wednesday.
Other indices, the Shariah-based DSES index was down 9 points or 0.7 percent to 1,289 and the blue-chip DS30 index shed 27 points or 1.23 percent to 2,195.
The highest profit-booking took place in the cement sector dropping 2.49 percent, followed by miscellaneous 2.58 percent, life insurance 2.29 percent, Cement 2 percent, bank 1.78 percent, and mutual fund 1.37 percent.
Other sectors that went down less than 1 percent included NBFI, telecommunications, general insurance, food and allied, pharmaceuticals and energy.
However, services and real estate, engineering, IT, and tannery stocks rallied.
Turnover declined by 21.96 percent to Tk 2,083 crore from the previous session's over Tk 26,600 crore.
General insurance stocks were traded most, accounting for 17.56 percent of total turnover, followed by miscellaneous 14.40 percent, textile 10.86 percent, engineering 9.35 percent, and bank 9.28 percent.
"Some over-bought scripts were corrected, which is good. The regulatory measure on floor price withdrawal for some companies played as a catalyst," said a stockbroker.
On Thursday, Bangladesh Securities and Exchange Commission (BSEC) directed the Dhaka Stock Exchange and Chittagong Stock Exchange to impose a standard price change limit of 2%-based on the reference or the previous trading days' closing prices of 30 companies.
The move came a day after the DSEX index crossed the psychological barrier of 6,000-mark.
Beximco Ltd was the most traded company with shares worth over Tk 2,474, accounting for around 18 percent of the total turnover.
Other top turnover leaders included Lanka Bangla Finance, Fortune Shoes, Pioneer Insurance, and SAIF Powertec.