Dhaka stocks snap 2-day slump
BI Report || BusinessInsider
Published: 16:39, 21 March 2023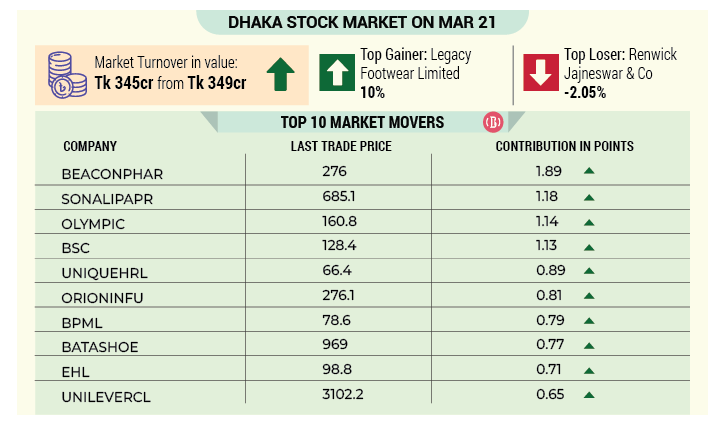 Graphics: Business Insider Bangladesh
The Dhaka Stock Exchange closed Tuesday's trading higher with scrips ending in the green outnumbering the ones in the red by six times.
Trading started on the Dhaka bourse with a positive movement. Within the first hour, the benchmark index jumped by 12 points. After overcoming a few pitfalls, the index managed to hold up and maintained an upward trajectory after 12:30pm to settle 18 points higher than the previous session.
DSEX, the prime index of the Dhaka Stock Exchange DSE, advanced 18.72 points or 0.30 percent to settle at 6222.90 as against 6204.17 points in the previous trading session. The DSE Shariah Index (DSES) gained 5.90 points or 0.143 percent to finish at 1355.84. The DSE 30 Index, comprising blue chips, added 4.80 points or 2220.61 percent to close at 2220.61.
Turnover, a crucial indicator of the market, increased by 1.43 percent and stood at Tk 350 crore at the end of the day. It was Tk 645 crore at the previous session on Monday.
Shares of the 325 issues were traded on the day, of which 87 closed in green, 14 in red and 224 showed no price movement.
LEGACYFOOT was the day's best performer on the day, posting a gain of 10 percent. ORIONINFU was the second-best gainer (8.19 percent), followed by ZEALBANGLA (7.77 percent), HAKKANIPUL (6.80 percent), and JUTESPINN (6.76 percent).
SEAPEARL was the most traded by value with its shares worth Tk 30.77 crore changing hands on the day. BSC, which was the second most-traded stock, had a turnover of Tk 21.35 crore followed by SPCERAMICS at Tk 20.55 crore, OLYMPIC at Tk 17.11 crore, and RUPALILIFE at Tk 13.01 crore.
The Chittagong Stock Exchange (CSE) also ended higher with the CSE All Share Price Index — CASPI — adding 57.64 points or 0.31 percent to settle at 18382.43 and the Selective Categories Index — CSCX — gaining 34.81 points to close at 11020.47. Of the 157 issues traded, 12 declined, 50 advanced and 95 issues remained unchanged on the CSE. The port city's bourse traded 27.78 lakh shares and mutual fund units with a turnover of Tk 12.30 crore.