Dates, fruits likely to be costlier during Ramadan due to LC opening crisis
Published: 10:00, 19 March 2023 Update: 11:47, 19 March 2023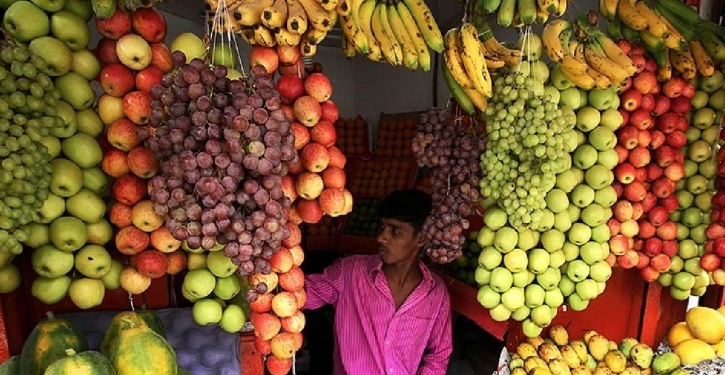 File photo
This year, the consumers will have to spend more money than usual in case of purchasing dates and other fruits—two essential items in iftar during Ramadan, due to importers' difficulty in opening letters of credit (LCs) on time.
Price hike is a most common phenomenon ahead of the month of Ramadan in Bangladesh, and this year even more due to the LC opening crisis.
Already, the price of dates has doubled in the wholesale and retail markets and it will be dearer ahead of Ramadan, said some businessmen.
The price of all types of dates has increased in the markets ranging from Tk 40 to Tk 160 per kg while different fruits range from Tk 30 to Tk 100 per kg.
Some traders said the prices of these essential iftar items will increase further during the month of Ramadan as they are facing difficulties in opening LCs which will push up the prices of dates and fruits.
According to the sources at Trading Corporation of Bangladesh (TCB), the price of dates increased by 20% compared to the last year.
Milton, a shop owner in the Baridhara area, said "The price of dates went dearer in the past month ahead of Ramadan and I was able to purchase a limited amount of dates due to the soaring price of it. Last year, a cartoon, weighing 5 kg dates of Farida variety was being sold at Tk 750 to Tk 800 but now it is available at Tk 1500. Already it goes beyond the capacity of the consumers."
He also feared that the price of dates would be increased further in the month of Ramadan.
Habibur Rahman, a fruit trader said the price of every fruit has increased.
During a recent visit at Gulshan kitchen market, this UNB correspondent found that one kg apple is being sold at Tk 250-350 which was Tk 180-260 last year and different varieties of orange are being sold at Tk 250-280.
Besides, ajwa variety of dates is being sold at Tk 750-800 which was available at Tk 600-700 last year. Mariam variety of dates is being sold at Tk 800-850 while the premium variety of dates is being sold at Tk 1000-1200 per kg.
According to the statistics of Bangladesh Bank, the import of dates has fallen by almost half compared to the demands of it but during Ramadan the demand for dates is about 50,000 tonnes.
In the past three months, only 22,000 tonnes of dates were imported which is 46% less than the last year. However, the authorities concerned related to import dates have opened LC of 29,000 tonnes dates in January, said sources at Bangladesh Bank.
Sirajul Islam, president of Bangladesh Fresh Fruits Importers Association, said the demand for dates increases three to four times during the month of Ramadan. Besides, there is a demand of 50,000-70,000 dates in the country in a year while 40,000-50,000 is needed in Ramadan alone, he said.
Referring to the opening of LC, Sirajul said "This year the traders faced difficulties in opening LCs in time as they had to open it by paying 100% cash margin while it was 5%. The small traders are the worst sufferers in opening LCs."
The dates are being imported from the Middle East and Africa and dates were being stocked five-six months before the Ramadan, he added.
He also said that the price of dates may increase 30% in Ramadan due to the dollar crisis and transport cost caused by the fuel price hike.
If the government will take steps in unloading dates in ports on a priority basis, then there will be no instability in the market, said Sirajul.
Contacted, Commerce Minister Tipu Munshi, said "We'll take necessary steps so that the consumers can purchase dates, the most essential items in iftar, at a tolerable price."
He also assured of keeping monitoring the market to prevent volatile price hikes of dates.
Issuing a warning, the minister also said strict action will be taken against those involved in increasing the price of dates after creating an artificial crisis.