Dhaka stocks start week lower to end 4-day rally
BI Report || BusinessInsider
Published: 19:12, 29 January 2023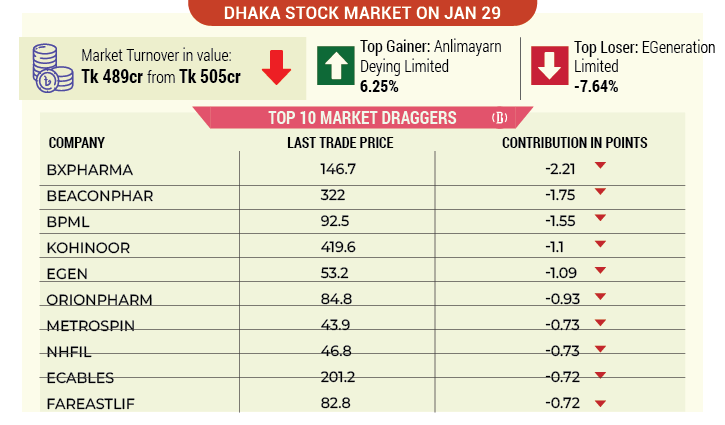 Graphics: Business Insider Bangladesh
The Dhaka bourse ended Sunday's trade in red terrain, dragged down by Insurance stocks.
Also on the day, the turnover took a hot and dropped below Tk 500 crore once again to disappoint investors.
DSEX, the prime index of the Dhaka Stock Exchange DSE, declined 7.92 points or 0.12 percent to settle at 6288.33 as against 6255.94 points in the previous trading session. The DSE Shariah Index (DSES) fell 2.5 points or 0.51 percent to finish at 1371.966. The DSE 30 Index, comprising blue chips, dropped by 0.55 points or 0.02 percent to close at 2231.25.
Turnover, a crucial indicator of the market, slumped by 3.24 percent and stood at Tk 489.17 crore at the end of the day. It was Tk 505.53 crore at the previous session on Thursday.
Shares of the 343 issues were traded on the day, of which 26 closed in green, 142 in red and 175 showed no price movement.
The market was downbeat throughout the session, with the majority of scrips experiencing corrections due to sell dominance prevailing across the bourse ahead of the upcoming earnings announcements, EBL Securities said in its daily market commentary.
Investors are taking a cautious stance due to concerns regarding the detrimental effects of recent macroeconomic adversities on the financial performance of companies in the major sectors, it said.
ANLIMAYARN was the day's best performer on the day, posting a gain of 6.25 percent. OLYMPIC was the second-best gainer (6.02 percent), followed by SINOBANGLA (5.57 percent), SAPORTL (5.47 percent), and GEMINISEA (3.74 percent).
On the other hand, EGEN had the sharpest fall, shedding 7.64 percent, followed by METROSPIN (-7.58 percent), MEGHNALIF (-4.06 percent), ECABLES (-3.96 percent), and NHFIL (-3.9 percent).
BPML was the most-traded by value with its shares worth Tk 51.30 crore trading on the day. GENEXIL, which was the second most-traded stock, had a turnover of Tk 32.48 crore followed by EHL at 27.51 crore, and AAMRANET at Tk 20.75 crore, and SEAPEARL at Tk 17.10 crore.
On the sectoral front, IT was the best performer in the session. The total turnover in this sector was Tk 75.86 crore, which was 17.21 percent of the total turnover. The Paper and Printing sector was in the second position with Tk 55.11 crore turnover (12.50 percent), followed by Services and Real Estate with Tk 43.52 crore (9.87 percent), Life Insurance with 43.50 crore (9.87 percent), and Pharmaceuticals and Chemicals with Tk 35.90 crore (8.14 percent).
The port city bourse, CSE, however, settled on green terrain. The selected indices (CSCX) and All Share Price Index (CASPI) inched up by 3.2 and 5.3 points respectively.