Stocks extend rally to second day
BI Report || BusinessInsider
Published: 17:45, 24 January 2023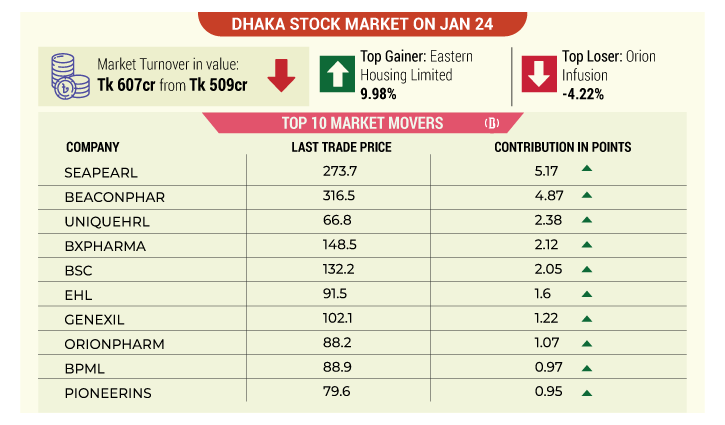 Graphics: Business Insider Bangladesh
The Dhaka bourse witnessed a notable surge on Tuesday with all its key indicators ending in green terrain.
Within a few minutes of trading on the day, the share price of most of the companies increased and the key index DSEX gained 0.23 percent. At the end of half an hour of the transaction, DSEX rose by jumped 20 points. However, the price of some scrips began to fall but failed to prevent a major rise in the index.
EBL Securities in its daily market commentary said the market maintained its upbeat momentum throughout the session with buy dominance prevailing across the bourse as investors sought quick-gain opportunities in selective issues that are expected to be somewhat immune to earnings volatility induced by recent macroeconomic adversities.
DSEX, the prime index of the DSE, went up by 27.80 points or 0.44 per cent to settle at 6,291.30. The DSE 30 Index, comprising blue chips, and the DSE Shariah Index (DSES) also gained 15.26 points to finish at 2,226.98 and 7.04 points closing at 1,372.22.
Turnover, a crucial indicator of the market, stood at Tk 6,07.67 crore on the country's premier bourse which was Tk 509.62 crore at the previous session of the week.
Out of 351 issues traded, 71 closed green, 102 in the red and 178 remained unchanged on the DSE trading floor.
BSC topped the turnover chart, followed by GENEXIL, AAMRANET, GEMINISEA and SEAPEARL.
EHL was the day's best performer, posting a gain of 9.98 per cent while ORIONINFU was the worst loser, losing 4.22 percent.
The Chittagong Stock Exchange (CSE) also ended higher with the CSE All Share Price Index - CASPI -advancing 101.17 points to settle at 18,558.21 and the Selective Categories Index - CSCX gaining 61.39 points to close at 11,124.56.
Of the issues traded, 54 advanced, 47 declined and 79 remained unchanged on the CSE.
The port city's bourse traded 28.41 lakh shares and mutual fund units with a turnover value of Tk 12.95 crore.