Dhaka stocks rise amid lower turnover
BI Report || BusinessInsider
Published: 18:53, 23 January 2023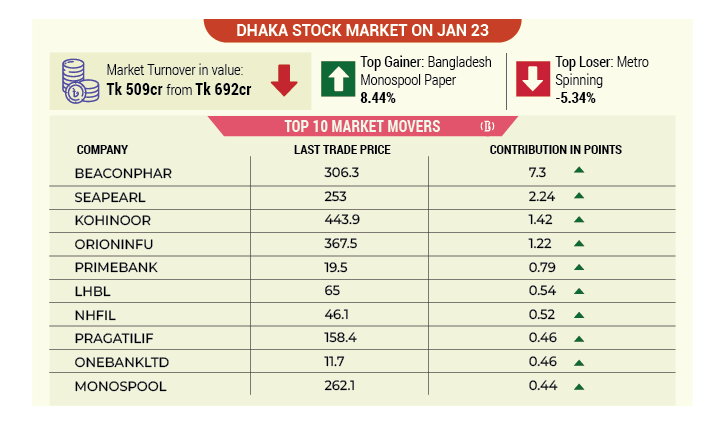 Graphics: Business Insider Bangladesh
All indices in the Dhaka bourse closed higher at the end of Monday's trade amid lower turnover.
Within a few minutes of trading on the day, the prices of most of the companies fell which continued till the end. However, the share price of some large capital companies increased, guiding the price index to end higher.
DSEX, the prime index of the Dhaka Stock Exchange DSE, advanced 7.57 points or 0.12 percent to settle at 6263.50 as against 6255.93 points in the previous trading session. The DSE Shariah Index (DSES) gained 4.50 points or 0.33 percent to finish at 1365.07. The DSE 30 Index, comprising blue chips, increased by 7.36 points or 0.33 percent to close at 2211.71.
Turnover, a crucial indicator of the market, increased by 0.12 percent and stood at Tk 509.62 crore at the end of the day. It was Tk 692.76 crore at the previous session on Sunday.
Shares of the 350 issues were traded on the day, of which 34 closed in green, 140 in red and 176 showed no price movement.
MONOSPOOL was the day's best performer on the day, posting a gain of 8.44 percent. ORIONINFU was the second-best gainer (7.52 percent), followed by GEMINISEA (7.25 percent), (6.82 percent), and MONNOAGML (5.93 percent).
On the other hand, METROSPIN had the sharpest fall, shedding 5.34 percent, followed by GENEXIL (-5 percent), (-4.87 percent), LRBDL (-4.24 percent), and RELIANCINS (-3.99 percent).
GENEXIL was the most-traded by value with its shares worth Tk 45.65 crore trading on the day. AAMRANET, which was the second most-traded stock, had a turnover of Tk 19.13 crore followed by MEGHNALIFE at 19.12 crore, and GEMINISEA at Tk 17.50 crore, and BPML at Tk 17.16 crore.
Meanwhile, the port city bourse, Chittagong Stock Exchange (CSE), also settled on green terrain. All Share Price Index (CASPI) added 2.78 points or 0.01 percent to 18457.03 and securities worth Tk 85.70 crore were traded on the day. The selected indices (CSCX) advanced by 4.05 points or 0.03 percent to 11063.17.
Of the 173 issues traded, 28 advanced, 73 declined and 72 had no price movement on the CSE. The port city's bourse traded 3807 shares and mutual fund units on the day with a volume of 18,00,287.