DSE end lower as IT stocks nosedive
BI Report || BusinessInsider
Published: 18:15, 22 January 2023 Update: 18:16, 22 January 2023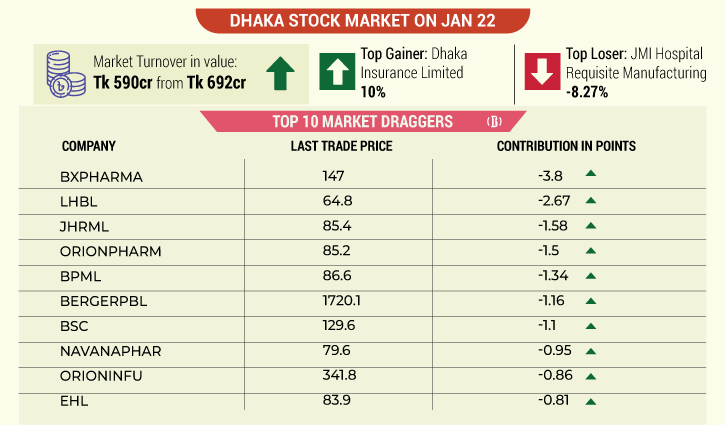 Graphics: Business Insider Bangladesh
The Dhaka bourse ended Sunday's trade in red terrain, dragged down by IT stocks.
The market started to look promising as key indicators performed better after a prolonged bearish market. However, in the final session of last week, investor participation in Dhaka Stock Exchange took a hit following the news that fuel and energy prices for industrial and commercial sectors had been hiked.
In continuation of that, country's both the bourses — Dhaka Stock Exchange (DSE) and Chittagong Stock Exchange (CSE) — plunged further on Sunday.
Earlier on Wednesday, the government announced up to a 179 percent hike in the prices of gas for industrial and commercial sectors.
Although 84 percent of companies in the Insurance sector enjoyed price gains, all 10 companies in the IT sector saw their share prices down on the day.
DSEX, the prime index of the Dhaka Stock Exchange DSE, declined 9.51 points or 0.15 percent to settle at 6255.94 as against 6265.44 points in the previous trading session. The DSE Shariah Index (DSES) fell 7.06 points or 0.51 percent to finish at 1360.67. The DSE 30 Index, comprising blue chips, dropped by 4.26 points or 0.19 percent to close at 22.04.35.
Turnover, a crucial indicator of the market, increased by 17.28 percent and stood at Tk 692.76 crore at the end of the day. It was Tk 590.68 crore at the previous session on Thursday.
Shares of the 369 issues were traded on the day, of which 54 closed in green, 129 in red and 129 showed no price movement.
EBL Securities in its daily market commentary said the market witnessed a continuous tussle between buyers and sellers until mid-session, followed by an intense sell pressure from cautious investors who opted for portfolio rebalancing to shift towards specific stocks which they expect to be somewhat immune to earnings volatility caused by recent macroeconomic adversities.
GENEXIL topped the turnover chart, followed by BSC, METROSPIN, BPML and AAMRANET.
DHAKAINS was the day's top gainer, posting 10 percent gain while JHRML was the worst loser, losing 8.27 percent.
SEAPEARL was the biggest index mover contributing 3.31 points to the index. It was followed by BEACONPHAR (1.40 points), UNIQUEHRL (0.83 points), PIONEERINS (0.72 points), and RELIANCINS (0.53 points).
On the other hand, BXPHARMA was the biggest index dragger, stripping off 3.80 points. It was followed by LHBL (-2.67 points), JHRML (-1.58 points), ORIONPHARM (-1.50 points), and BPML (-1.34 points).
The Chittagong Stock Exchange (CSE) also ended sharply lower with the CSE All Share Price Index - CASPI -losing 21.91 points to settle at 18,454.27 and the Selective Categories Index - CSCX shedding 13.23 points to close at 11,059.12.
Of the issues traded, 64 declined, 45 advanced and 88 issues remained unchanged on the CSE trading floor.
The port city's bourse traded 18.82 lakh shares and mutual fund units with turnover value worth about Tk 8.03 crore.