DSE turnover falls below Tk 300cr
BI Report || BusinessInsider
Published: 17:59, 6 December 2022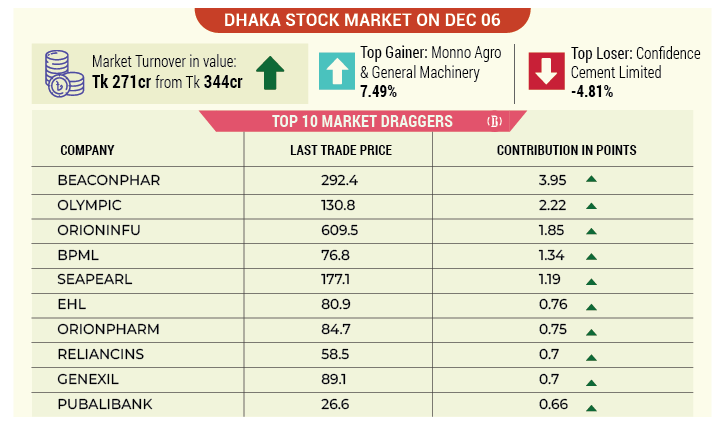 Graphics: Business Insider Bangladesh
After two consecutive business days of decline, the country's stock market rose slightly on Tuesday, but the drought of transactions continued on the day.
On this day, the turnover in the Dhaka Stock Exchange (DSE) fell below Tk 300 crore.
The DSE had a turnover of Tk 271.97 crore, which is Tk 72.89 crore less than the previous working day. This is the lowest turnover since April 5, 2021.
Such a scenario was last seen in July 2020. At that time, from July 14 to July 23, for eight consecutive working days, around Tk 200 crore was traded.
On such a dry trading day, DSE had more companies on the bullish list than on the bearish list. However, the number of firms with prices unchanged was many more.
On this day, trading in DSE started with the increase in share and unit prices of most companies. As a result, DSE's key index rose by 10 points as soon as the trading started. This upward trend continued till the end but trading was slow from the start.
At the end of the day, DSE's key index DSEX increased by 16 points or 0.26 percent to settle the day at 6,229.
Among other indices, the shariah-based DSES rose by 4 points or 0.33 percent and the blue-chip DS-30 was up by 7 points or 0.31 percent.
On this day, shares of the 303 companies traded on the day, of which 50 firms gained, 25 issues lost and 228 companies remained unchanged.
The IT sector rose to the top position in terms of transactions. The total turnover in this sector was Tk 55.1 crore, which is 24.41 percent of the total turnover.
The pharmaceuticals and chemicals sector was at the second position with Tk 28.08 crore turnover, followed by food and allied sector at Tk 20.8 crore.
Shares of Aamra Network were the most-traded by value on the DSE as its shares worth Tk 16.66 crore were traded on the day.
Monno Ceramics, which was the second most-traded stock, had a turnover of Tk 12.49 crore followed by Genex Infosys, Bashundhara Paper Mills, Orion Pharma, Eastern Housing, ADN Telecom,Olympic Industries, Sonali Ansh and Chartered Life Insurance.
Meanwhile, the overall index CASPI of the Chittagong Stock Exchange (CSE) increased by 42 points to 18,359 and securities worth Tk 3.54 crore were traded on the day.