Some market matters need sixth sense to grasp: BSEC commissioner
BI Report || BusinessInsider
Published: 19:37, 1 December 2022 Update: 16:59, 2 December 2022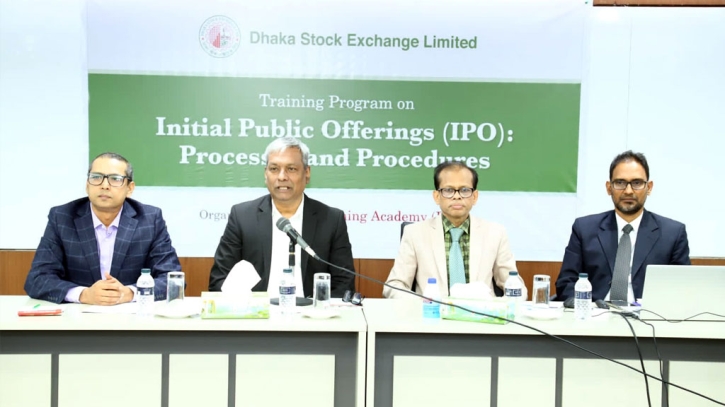 Photo: Collected
There are many aspects of the capital market that need a sixth sense to understand and can not be measured with documents, Sheikh Shamsuddin Ahmed, commissioner of the Bangladesh Securities and Exchange Commission (BSEC) has said.
He made the comment while speaking at a two-day training workshop, titled "Initial Public Offerings (IPO): Processes and Procedures" organised by DSE Training Academy on Thursday.
Shamsuddin said the commission is inquiring about any conflict of interest for those directors of listed companies who also manage other firms.
Efforts are also being made to develop new guidelines and assessments such as ESG reporting, he said.
Decisions on approving IPOs are taken according to documents provided by auditors, expecting adequacy of the audit. For this, the commission has no hand, he added.
He also said that one of the important duties of the commission is to look after the documentary evidence of the IPO.
Shamsuddin Ahmed said the commission's interest is to conduct a proper evaluation of an IPO that is aligned with investors' aspirations.
BSEC Executive Director Mohammad Rezaul Karim shed light on the role of BSEC and Exchanges in Appraisal of Prospectus, Features of Red-hearing Prospectus, Requirements and Content of Prospectus, Appraisal Report and Financial Statements, Scrutiny Procedures of Prospectus, Securities Distribution Process, Lock in Provisions, Consequences of Default and Penalty Provisions and IPO Approval Procedure on this Training Workshop.
M Saifur Rahman Majumder, acting managing director of DSE and Syed Al Amin Rahman, deputy general manager of DSE and head of DSE Training Academy were also present at the workshop.