Indices rise marginally amid trading drought
BI Report || BusinessInsider
Published: 16:52, 29 November 2022 Update: 17:18, 29 November 2022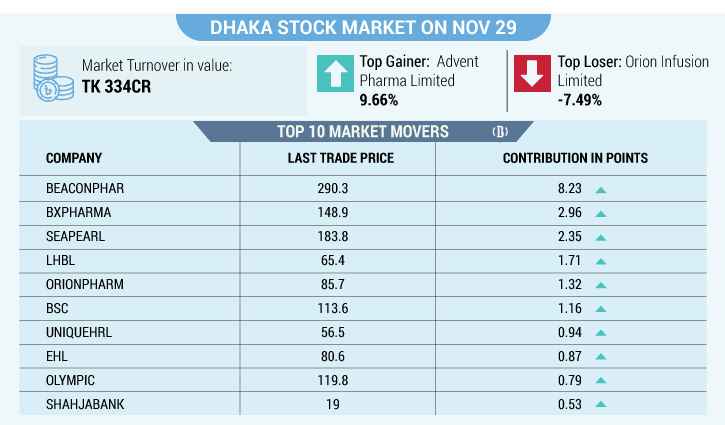 Graphics: Business Insider Bangladesh
The Dhaka bourse managed to recover from early losses on Tuesday and ended the third session of the week marginally higher.
The Dhaka Stock Exchange (DSE) is struggling to break free from a drought in transactions that have been dogging the bourse in the past few days.
This has resulted in the turnover hovering around Tk 400 crore even when the index ends higher.
On Tuesday's session too, all the indices rose in DSE, but the volume of transactions in terms of money decreased.
However, the share and unit price of most of the companies remained unchanged on the day.
At the end of the day, DSE's key index DSEX increased by 14 points or 0.23 percent to settle the day at 6,212.
Among other indices, the shariah-based DSES rose by 5 points or 0.35 percent and the blue-chip DS-30 was up by 9 points or 0.41 percent.
The DSE had a turnover of Tk 334 crore, which is Tk 83 crore less than the previous working day.
Shares of the 317 companies traded on the day, of which 63 firms gained, 14 issues lost and 240 companies remained unchanged.
The IT sector rose to the top position in terms of transactions. The total turnover in this sector was Tk 51.92 crore, which is 20.25 percent of the total turnover.
The pharmaceuticals and chemicals sector was at the second position with Tk 46.7 crore turnover, followed by miscellaneous sector at Tk 25 crore.
Shares of Genex Infosys were the most-traded by value on the DSE as its shares worth Tk 22.22 crore were traded on the day.
Navana Pharmaceuticals, which was the second most-traded stock, had a turnover of Tk 18.55 crore followed by BSC, Bashundhara Paper Mills, Sea Pearl Beach Resort, Chartered Life Insurance, Aamra Network, Orion Pharma, Eastern Housing and Padma Life Insurance.
Meanwhile, the overall index CASPI of the Chittagong Stock Exchange (CSE) decreased 10 points to 18,318 and securities worth Tk 10.02 crore were traded on the day.