Textile, pharma and FI stocks drive up index, turnover
BI Report || BusinessInsider
Published: 18:24, 16 August 2022 Update: 19:14, 16 August 2022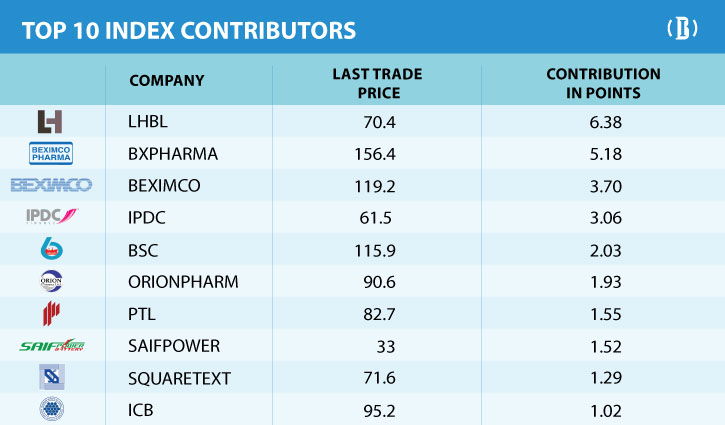 Graphics: Business Insider Bangladesh
Did the Dhaka stock market absorb the oil price hike 'shock'? Questioned an investor when he saw the indices came back to green after a fall for consecutive four sessions in the last week.
His optimism was also supported by the increased participation as the turnover on the Dhaka Stock Exchange (DSE) once again exceeded Tk 1,000 crore after three trading days.
On Tuesday, the DSE had a turnover of Tk 1,034 crore, up by Tk 390 crore from the previous session and the main index, DSEX ended the session 50 points higher.
Earlier, on August 8, Tk 1,083 crore worth of shares were traded on DSE. Since then the value of the traded shares were declining due to the inflation fears arise from the sudden and massive price hike of all fuel oils on August 5. On August 11 the turnover went down to Tk 583 crore, which was almost half of the figure just two days ago.
Though 62 percent or 237 companies saw their prices gain on Tuesday, it was three sectors – textile, pharmaceuticals and financial institutions - that pulled the market up on Tuesday.
The textile sector alone accounted for nearly 23 percent or Tk 220 crore of total turnover, followed by miscellaneous and pharmaceuticals and chemicals.
Market insiders said that due to the Bangladesh Bank's capital market-friendly decision, the stock market returned to green on Sunday after a continued fall since the announcement of the oil price hike.
Due to the August 15 holiday, trading in the stock markets remained off on Monday. The market began trading on a positive note on Tuesday and the trend continued till the session ended at 2-30pm.
At the end of the day, DSEX increased over 50 points or 0.82 percent to settle the day at 6,225.
Among other indices, the shariah-based DSES rose by 10.44 points or 0.77 percent and the blue-chip DS-30 was up by 13.72 points or 0.62 percent.
Shares of the 381 companies traded on the day, of which 237 firms gained, 42 issues lost and 102 companies remained unchanged.
Shares of Beximco Limited were the most traded by value on the DSE as its shares worth Tk 83.23 crore were traded on the day.
IPDC Finance, which was the second most-traded stock, had a turnover of Tk 40.22 crore followed by Malek Spinning, BSC, Intraco Refueling, GP, Coppertech, Prime Textile, Orion Infusion and Delta Life.
Meanwhile, the overall index CASPI of the Chittagong Stock Exchange (CSE) increased over 142 points to 18,313 and securities worth Tk 18 crore were traded on the day.