Textile stocks keep index up
BI Report || BusinessInsider
Published: 21:17, 4 August 2022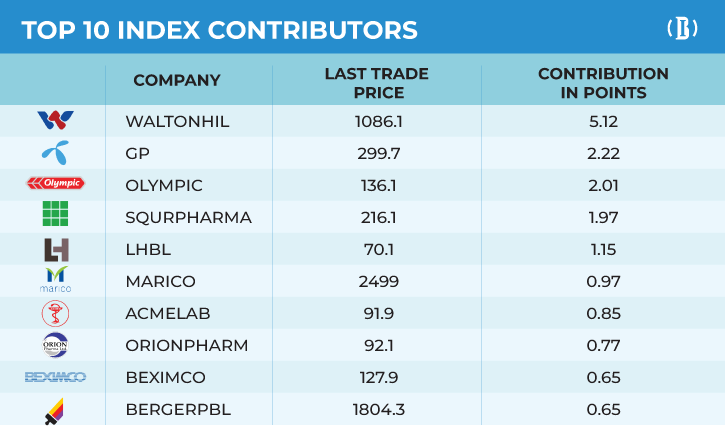 Infographic: Business Insider Bangladesh
Dhaka stock market on Thursday extended its gaining streak for the fifth straight day, riding on the demand for textile stocks.
Beximco group's two companies also contributed a key role in pulling all indices on the Dhaka Stock Exchange.
However, the turnover and share and unit prices of most institutions fell.
The stock market of the country has been on the rise since the start of the week on Sunday — the day when the market regulator's two price control mechanisms came into effect.
Bangladesh Securities and Exchange Commission (BSEC) had imposed the floor price method and exposure limit on bank stocks to stop the continuous fall in the capital market that was having a crippling effect on investors.
Trading in the stock market started on Thursday with the increase in share and unit prices of most companies.
However, as time progressed, the level of decline started to increase. At one stage of the transaction, the index became negative.
At the end of trading, the share price of some big companies increased despite the decline in the prices of most of the companies, and the index ended the day's trading with an upswing.
As a result, DSEX, the benchmark index of DSE increased by 12 points or 0.19 percent to 6,312.
Among other indices, the shariah-based DSES rose by 4.68 points or 0.34 percent and the blue-chip DS-30 increased by 6.37 points or 0.28 percent.
The DSE had a turnover of Tk 1,190.26 crore on the day, which is Tk 5.15 crore less than the previous session.
Shares of the 381 companies traded on the day, of which 129 firms gained, 199 issues lost and 53 companies remained unchanged.
The textile sector rose to the top position in terms of transactions. The total turnover in this sector was Tk 324.29 crore, which is 28.74 percent of the total turnover.
The pharmaceuticals and chemicals sector was at the second position with Tk 163.1 crore turnover, followed by the miscellaneous sector at Tk 135.4 crore.
Shares of Beximco Limited were the most-traded by value on the DSE as its shares worth Tk 100.06 crore were traded on the day.
Olympic Industries, which was the second most-traded stock, had a turnover of Tk 55.85 crore followed by Malek Spinning, Orion Pharma, Makson Spinning, Sonali Paper, ACMEPL, Beximco Pharma, Intraco and IPDC Finance.
Meanwhile, the overall index CASPI of the Chittagong Stock Exchange (CSE) increased over 57 points to 18,540 and securities worth Tk 21.30 crore were traded on the day.