Kitchen market stable, chicken prices drop before Eid-ul Azha
BI Report || BusinessInsider
Published: 22:17, 2 July 2022 Update: 03:44, 3 July 2022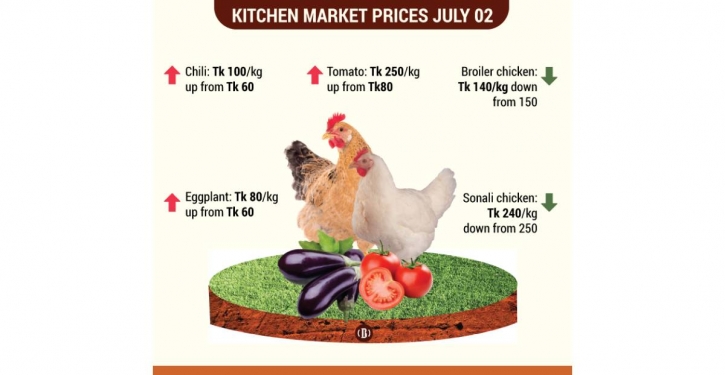 Graphics: Business Insider Bangladesh
The prices of essentials at the capital's major kitchen markets including Kawran Bazar remained steady on Saturday compared to the previous week ahead of the Eid-ul-Azha, according to the traders.
It is much to the relief of the city dwellers as the chicken price dropped in the kitchen market. However, the prices of some vegetables such as tomato, eggplant and green chilli went up prior to the festival which will be celebrated on July 10.
While talking to Business Insider Bangladesh, many traders at Kawran Bazar kitchen market said that the farmers have increased their supply as many farms have already been inundated due to the torrential rain.
Furthermore, the Eid-ul-Azha is approaching. And, revellers are preparing to buy sacrificial animals like bulls and goats. As a result, the chicken price dropped significantly, said the traders.
Abul Kalam, a chicken trader at Kawran Bazar, said per kg of firmed chicken is selling at Tk 130 to Tk 140, semi-breed Sonali chicken at Tk 230 to Tk 240 while per kg of local chicken at Tk 500, respectively.
Besides, the prices of vegetables in the market witnessed a state of stability for some varieties, while the prices of some other items spiralled during today's sale, he said.
The price per kg green chilli stood at Tk 80 to Tk 100 which was selling at Tk 60 in the last week. A kilogram of eggplant is selling at Tk 70 to Tk 80 from its previous price of Tk 60 while per kg of tomato is selling at Tk 230 to Tk 250 which was Tk 60 to Tk 80 in the last week, said Md Nasir, a vegetable trader of Kawran Bazar.
Apart from these, per kg of pointed gourd and okra are being sold at Tk 30 to Tk 40, respectively, cucumber Tk 60, papaya Tk 30, per kg of bitter gourd Tk 80 and per piece of bottle gourd Tk 30.
The prices of ginger, onion, garlic and potato were also unchanged.
Onion trader Md Samad Mia said there is no imported onion in the market right now and chances are slim to decline its price as Eid is approaching.
Per kg of onion is being sold at Tk 45 to Tk 50, potato at Tk 30, China ginger and garlic at Tk 100 and Tk 120 respectively while the local garlic is selling at Tk 70, currently.
The spice market has stocked up ahead of Eid but the traders said the price and amount of sale this year is yet to get momentum.
The price per kg of cardamom was Tk 4,000 in the last Eid season while it is being sold at Tk 2,500 this year, Babul Miah, a trader of Kawran Bazar, told the Business Insider Bangladesh.
Meanwhile, one kilogram of cumin is selling at Tk 400 which was Tk 440 a month ago and cinnamon is selling at Tk 420 while its previous price was Tk 450.
Edible (soybean) oil is being sold at the government-set price of Tk 198 per litre and Tk 970 to Tk 980 for a five-litre bottle.
Besides, the price of almost all kinds of rice remained stable while the coarse rice price came down to Tk 50 per 50 kg sack.
Many consumers expressed their frustrations saying that they will be compelled to leave the capital if the prices of all essential items continue to increase in future.