Stocks close green, led by banks
BI Report || BusinessInsider
Published: 21:38, 29 June 2022 Update: 21:45, 29 June 2022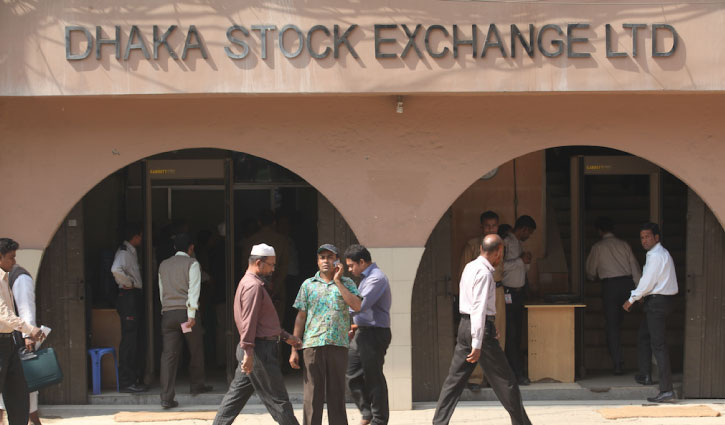 Exterior view of the Dhaka Stock Exchange. Photo: Collected
Riding on the banking sector, the Dhaka Stock Exchange (DSE) on Wednesday managed to hold on to its bull run for the third straight session with the key index edging slightly up to end the day.
However, the turnover decreased compared to the previous working day. At the same time, the share prices of most companies declined.
Five of the top ten companies contributing to the rise in the DSE index were in the banking sector. BRAC Bank, Trust Bank, EBL, NRBC Bank and Pubali Bank added 14 points to the index. In contrast, the GP alone reduced the index about 13 points.
DSEX, the benchmark index of the Dhaka Stock Exchange, went up about 8 points or 0.12 percent to settle the day at 6,350.
Among other indices, the shariah-based DSES fell by 0.24 point or 0.01 percent, and the blue-chip DS-30 increased by 0.59 points or 0.02 percent.
At the end of the day, the DSE had a turnover of Tk 805.69 crore, which is Tk 13.13 crore less than the previous session.
Shares of the 381 companies traded on the day, of which 157 firms gained, 172 issues lost and 52 companies remained unchanged.
The engineering sector rose to the top position in terms of transactions. The total turnover in this sector was Tk 118.78 crore, which is 16.08 percent of the total turnover.
The textile sector was at the second position with Tk 107.4 crore turnover, followed by pharmaceuticals and chemicals sector at Tk 94.04 crore.
Shares of Anwar Galvanizing were the most-traded by value on the DSE as its shares worth Tk 34.34 crore were traded on the day.
Shinepukur Ceramics, which was the second most-traded stock, had a turnover of Tk 27.43 crore followed by Beximco Limited, BD Finance, Fu-Wang Food, Orion Pharma, RAK Ceramics, Itraco, BSC and ACMEPL.
Meanwhile, the overall index CASPI of the Chittagong Stock Exchange (CSE) increased over 26 points to 18,690 and securities worth Tk 20.38 crore were traded on the day.