Dhaka stocks gain for 2nd day
BI Report || BusinessInsider
Published: 18:30, 28 June 2022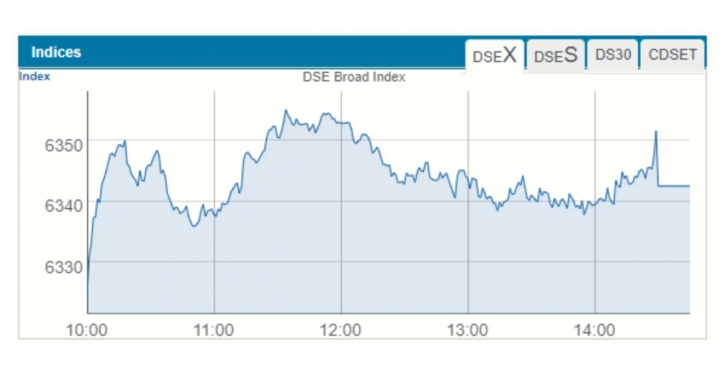 DSE indices on Tuesday
The country's capital market also rose on Tuesday in continuation of the previous session. On the day, the prices of 52 percent of securities on the Dhaka Stock Exchange (DSE) rose.
Along with all the indicators, turnover also increased. After five working days, the total transaction on this day again exceeded Tk 800 crore.
DSEX, the benchmark index of the Dhaka Stock Exchange, went up over 22 points or 0.35 percent to settle the day at 6,342.
Among other indices, the shariah-based DSES rose by 4.84 points or 0.35 percent, and the blue-chip DS-30 increased by 9.37 points or 0.41 percent.
At the end of the day, the DSE had a turnover of Tk 818.82 crore, which was Tk 118.06 crore more than the previous session.
Shares of the 382 companies traded on the day, of which 199 firms or 52 percent gained, 133 issues or 35 percent lost and 50 companies or 13 percent remained unchanged.
The textile sector rose to the top position in terms of transactions. The total turnover in this sector was Tk 132.2 crore, which was 17.46 percent of the total turnover.
The engineering sector was at the second position with Tk 85.39 crore turnover, followed by pharmaceuticals and chemicals sector at Tk 75.8 crore.
Shares of Shinepukur Ceramics were the most-traded by value on the DSE as its shares worth Tk 36.79 crore were traded on the day.
Beximco Limited, which was the second most-traded stock, had a turnover of Tk 29.09 crore followed by Fu-Wang Food, BD Finance, Delta Life, BSC, Monno Fabrics, Salvo Chemical, Yeakin Polymer and JMI Hospital.
Meanwhile, the overall index CASPI of the Chittagong Stock Exchange (CSE) increased over 46 points to 18,663 and securities worth Tk 60.37 crore were traded on the day.