Now egg price rises to Tk 130 a dozen
BI Report || BusinessInsider
Published: 10:46, 27 May 2022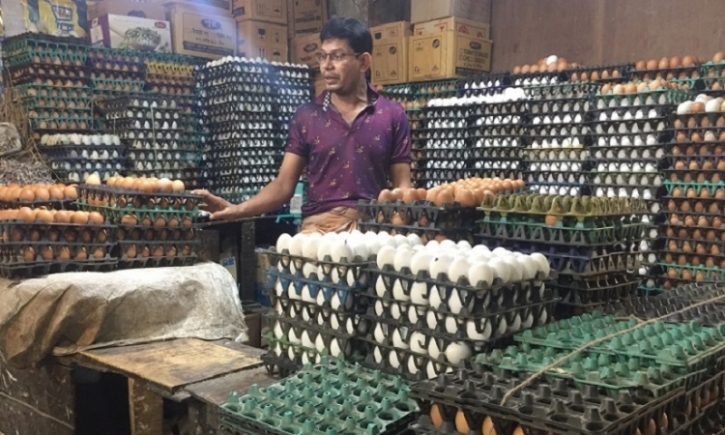 Photo: Business Insider Bangladesh.
The prices of eggs, known as popular protein among the middle and low income people, have shot up to Tk 130 a dozen at retail level.
One dozen eggs had cost the consumers Tk 120 a week ago.
Traders blamed the price hike on poultry feed and closure of some small and medium poultry farms.
Such a rise in price has pushed families into further hardship as they had already been struggling to earn their livelihoods amid rising inflationary pressure and a trail of Covid-19 devastation.
While talking to the Business Insider Bangladesh, Md Jahangir, a trader at Kawran Bazar said per dozen of hen eggs was selling at Tk 115 to Tk 120 a week ago while they are now selling at Tk 125 to Tk 130.
Besides, per dozen duck eggs are being sold at Tk 150 to Tk 160 as against its earlier price of Tk 130 to Tk 140, last week, he said.
Egg trader Russel Ahmed said he buys per 100 pieces of white eggs at Tk 870 to Tk 900 and brown eggs at Tk 930 to Tk 950 from wholesale markets. And then, he segregated the eggs into A, B and C grades.
He is now selling the eggs at Tk 120 to Tk 130 per dozen based on the categories.
Shambhu Chakrabarti, owner of a wholesale egg shop in Kawran Bazar, told this correspondent that supply of eggs has fallen against the demand.
The eggs growers in Gazipur, Tangail and Munshiganj area have stopped supplying eggs to the market as many of them have stopped poultry farming due to the price hike of feed.
He said per dozen of hen eggs is being sold at Tk 115 to Tk 120 while per dozen of duck eggs at Tk 145 to Tk 150.
Parvez Ahmed, a private job holder, said prices of everything including fish, meat have gone up, and now the price of eggs shot up, too. "What will we eat?" he said.
The prices of almost all commodities are rising except people's income, he said, adding that the people are bearing the burden of loan due to the price hike of essentials.