Dhaka stocks down nearly 1% at opening
BI Report || BusinessInsider
Published: 10:46, 25 May 2022 Update: 13:17, 25 May 2022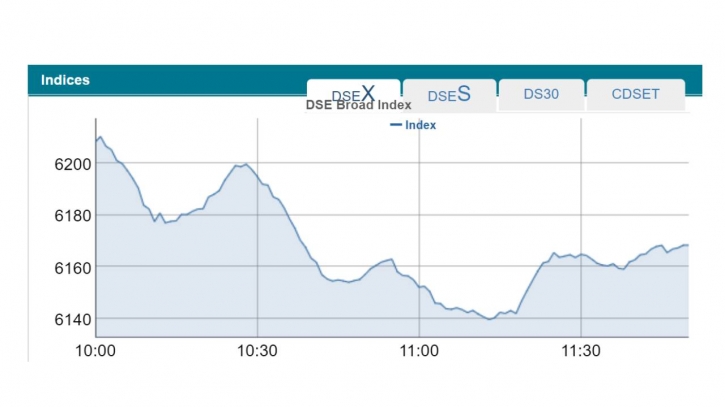 DSE indices on Wednesday
Dhaka stocks have seen decline in 9 out of last 10 working days. Despite various initiatives of the regulatory body, the country's capital market has not been able to break out of this cycle of collapse.
The Dhaka Stock Exchange (DSE) has started trading on Wednesday with the fall of the index.
In the first 50 minutes into the trade, the benchmark index of DSE, DSEX has decreased over 55 points or 0.9 percent.
Among other indices, the shariah-based DSES was down by 1.34 points or 0.09 percent and the blue-chip DS-30 declined 7.95 points or 0.34 percent.
Over Tk 62 crore worth of shares transacted so far in DSE, where Sonali Paper, Shinepukur Ceramics, GSP Finance, JHRML and IPDC Finance were the top five traded stocks.
Earlier, on Tuesday, DSEX, the broader index of the Dhaka Stock Exchange dropped over 50 points or 0.79 percent to settle at 6,211.
Among the two other indices, the shariah-based DSES decreased 9.70 points or 0.70 percent and blue-chip DS30 declined 14.69 points or 0.63 percent.
The DSE saw a turnover nearly Tk 661 crore, up by Tk 2 crore from the previous session.
Shares of the 376 companies traded on the day, of which 55 firms gained, 278 lost and 43 remained unchanged.