Economic worries inflict massive loss on DSE last week
BI Report || BusinessInsider
Published: 22:02, 21 May 2022 Update: 23:15, 21 May 2022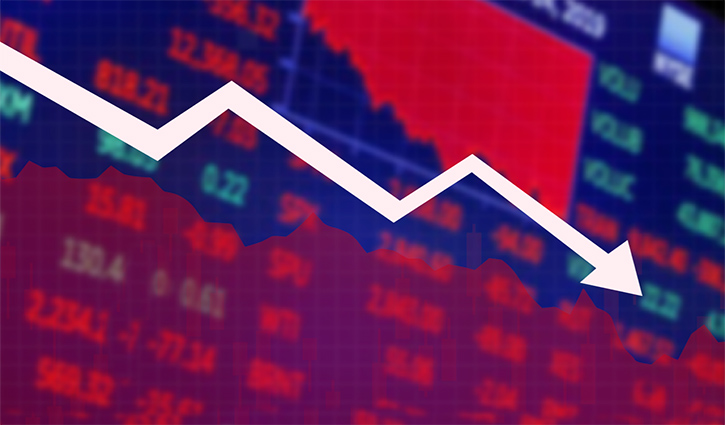 Photo: Representational
The country's stock market faced a sharp fall in all indices and market capitalisation last week, gripped by the fear of a looming economic crisis.
The market capitalisation of the main stock market, Dhaka Stock Exchange (DSE) over Tk 21,000 crore in a single week dragging down all the price indices and the daily average transaction.
Market insiders say the bourse's horrible week indicates that the frustration among ordinary investors has not only subsided but increasing by the day.
If this situation does not improve next week, they predict, the capital market may face a major crash.
At the end of the week, the market capitalisation of DSE stood at Tk 5,09,872 crore, which is Tk 21,140 crore or 3.98 percent less than the last working day of the previous week.
The benchmark index of DSE, the DSEX was down over 307 points, or 4.68 percent, to 6,258 during the week.
Among other DSE indices, the shariah-based DSES decreased about 49 points or 3.43 percent, and the blue-chip DS-30 declined by 90 points or 3.75 percent.
Professor Abu Ahmed, a capital market expert told the Business Insider Bangladesh that no matter what the government says, the negative impact of the global economy is not leaving Bangladesh.
"Our capital market is no exception. The overall situation in the capital market last week dealt a fresh blow to the investors' confidence. If we can't stop it in any way, there could be a bigger collapse in the capital market," he expressed concern.
Meanwhile, the total turnover also sunk deep last week. The DSE had a turnover of Tk 3,235.73 crore last week, which was Tk 2,162.20 crore or 40 percent less than the previous week.
Last week, the average turnover on the DSE was Tk 808.93 crore per working day, which is 270.65 crore or 23.07 percent less than the previous week.
Of the total 386 issues traded in the week, 20 advanced, 360 declined and six remained unchanged.
Beximco Limited's shares were the most traded on the DSE last week. The company's share turnover was Tk 203.53 crore, which is 6.29 percent of the total turnover.
Beximco was followed by Shinepukur Ceramics with a turnover of Tk 159.49 crore and JMI Hospital with Tk 132.77 crore.
In the list of top ten companies were Islami Bank, RD Food, Salvo Chemical, Orion Pharma, ACI Formulations, Fuwang Ceramic and LafargeHolcim Cement.
Meanwhile, on the Chittagong Stock Exchange (CSE), the overall index CASPI decreased by 809 points or 4.20 percent to 18,439 during the week and Tk 121.34 crore worth of stocks were traded.