Is BB doing enough to manage the exchange rate?
BB should hold an emergency meeting with banks' CEOs
BI Analysis || BusinessInsider
Published: 01:34, 19 May 2022 Update: 01:39, 19 May 2022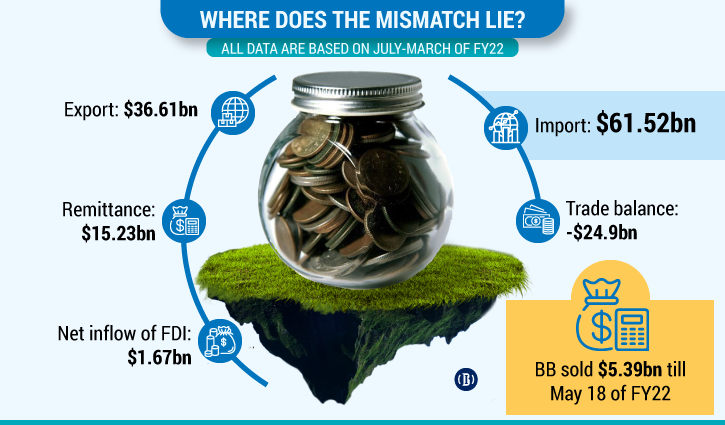 Business Insider Bangladesh illustrations
The gap between the Bangladesh Bank-set exchange rate for BC sales (import payments) and the market rate has reached up to Tk 10 a dollar, which treasury bankers with over two decades of experience never saw.
As per the BB's verbal order, banks' published rate for BC sale of US dollar was Tk 87.60 on Wednesday, but the actual market rate was Tk 95-97 as banks were buying the greenback from exchange houses at a much higher price than what the BB advised.
"The BB told us not to quote a high rate for remittance. But what can we do when exchange houses abroad want more," said the head of the treasury department of a private bank.
He said a bank bought a dollar from an exchange house as high as Tk 95.50 and the common rate was Tk 94–94.50 for the past few days. So, this bank will definitely charge at least Tk 1 more than his buying price, he said.
"The central bank tells banks to follow rates for BC sales, TT (export payments) and remittance verbally. As there is no written instruction, banks which need the dollar to keep their payment commitments will buy it at any cost to avoid default," said another treasury banker of a leading private bank.
Often, the BB sells dollars to banks when they need it to keep the exchange rate stable. But bankers said all banks cannot avail the facility as there are some conditions, such as the payments must be for import of essentials, fertiliser or petroleum products.
According to central bank data, BB has sold $5.39 billion to banks as of May 18 of the current fiscal year. Of the amount, $80 million was sold on Wednesday. But that amount was peanuts compared to the market needs, bankers said.
Also, the BB considers the balance of a bank's Nostro account for selling the dollar. A Nostro account refers to an account that a bank holds in a foreign currency in another bank to facilitate foreign exchange and trade transactions. Every bank has a certain limit that it can maintain in its Nostro account, according to BB guidelines.
"Our Nostro account has to be negative if we want to buy dollars from the BB," said another banker.
Last but not least is the BB's reluctance to discuss the issues with the stakeholders in the exchange rate market, many bankers said.
"Taka has been depreciating for the last several months and it devalued by Tk 5 to 6 this week. Still, the central bank doesn't feel that it needs to hold an emergency meeting with the CEOs of banks to devise out ways for the effective management of the exchange rate," a CEO of a bank commented.