Car prices likely to shoot up, revenue to fall: Importers
H M Al Imran Khan || BusinessInsider
Published: 10:54, 13 May 2022 Update: 11:05, 13 May 2022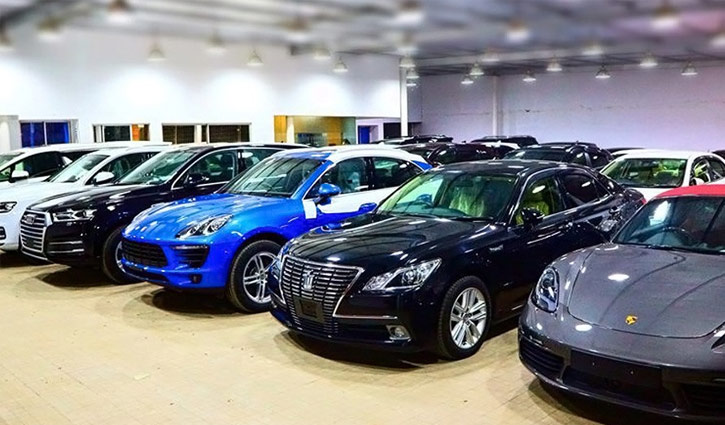 Photo: Business Insider Bangladesh
Bangladesh Bank's decision to increase the cash margin on LC for imports to 75 percent will hit the country's car imports and push its prices higher, sellers said.
The central bank, through a circular on Tuesday, has fixed the minimum mandatory cash margin on LC for the import of motor vehicles, home appliances and electronics to 75 percent aiming to tighten non-essential imports and cut pressure on the exchange rate.
Arif Khan Bipu, who imports reconditioned cars from Japan, said that the prices of imported cars will increase as their cost of funds will go up for the massive hike in cash LC margin.
"Car imports will decline as importers have to deposit a huge amount of cash for opening an LC. Small traders will feel the pinch the more," Khan told the Business Insider Bangladesh on Wednesday.
He said if a trader used to import 10 cars a month earlier, now he will import one or two units as he needs a huge amount of investment to be deposited to his bank for opening the LC.
Bangladesh is totally dependent on imports for motor vehicles, be it cars, buses and trucks. Accordingly, the prices of motor vehicles depend on local and international factors, such as LC margin, exchange rate and interest rates.
According to the National Board of Revenue data, Bangladesh imported 8,768 reconditioned vehicles during the July-December period of the current fiscal year, up from 5,662 for the same period a year ago.
The import of reconditioned vehicles is going down every year as people are choosing hybrid and electric ones in recent years. Data also showed that Bangladesh imported 8,366 hybrid cars in fiscal 2020-21, a significant increase from 3,296 units in the previous year.
Former leaders of the Bangladesh Reconditioned Vehicles Importers & Dealers Association (BARVIDA) also expressed frustration over the massive rise in LC margin saying it will have a bad impact on the local car market and on the government's tax income as well. NBR data shows that the government gets Tk 3,000 crore to Tk 4,000 crore a year from cars.
Mohammed Habibur Rahman, a former leader of BARVIDA, said the car business in Bangladesh is going through an unstable time due to the soaring dollar price against Taka.
"Already, our import cost has shot up because of the continued depreciation of Taka. The central bank's latest decision will take the prices sky-high," Rahman said.
"Of course, the government can take any decision and we welcome that. But the decision to raise LC cash margin to such a level will hit the small car importers the most."
He predicted that the overall car import may decline by 50 percent or even more. So, the government's revenue from car imports will go down significantly, he added.
Another former leader of BARVIDA and an importer Md Farooq said the shipment of imported cars takes more than a month or more.
"So, we need to adjust the price following the dollar rate after the cars arrive at ports. It makes business difficult for us," he added.