Dhaka stocks end flat after promising start
BI Report || BusinessInsider
Published: 16:01, 16 January 2022 Update: 18:44, 16 January 2022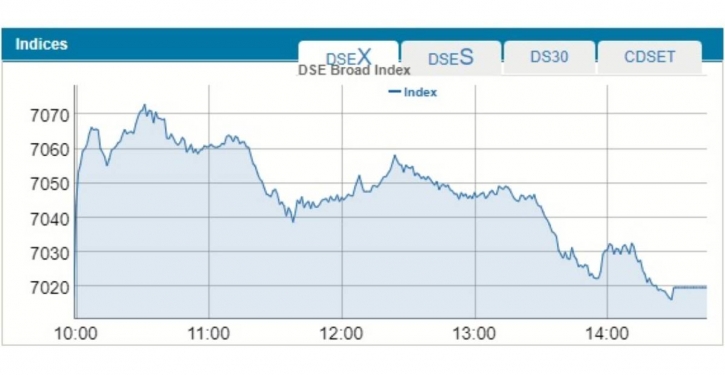 DSE indices on Sunday
Dhaka stocks closed flat after a sharp rise in the first one hour into the trade on Sunday.
DSEX, the benchmark index of Dhaka Stock Exchange, jumped to nearly 7,073 points in just 31 minutes of trading and the positive trend continued until 1:30pm when the indices started falling and settled the day only 2 points higher.
Analysts say banking and insurance stocks succumbed to profit-booking after an upward move in the past few trading sessions. Textile stocks bounced back as three-fourth of the companies saw a price rise.
Turnover on the DSE was Tk 1507 crore, which was Tk 264 crore more than the previous session.
Among other DSE indices, shariah-based DSES went up by 0.29 points, but the blue-chip DSE-30 decreased 18 points, or 0.68 percent.
Of the shares of 378 companies traded on the day, 151 fell, 182 gained and 45 remained unchanged.
Although RAK Ceramics, GPH Ispat, Unique Hotel, Square Textile and Walton have added some points to the index, the index has been negatively affected by the fall in share prices of many large paid-up capital companies.
Among them, Robi, Beximco Limited, Beximco Pharma, Square Pharma, LafargeHolcim Cement and Titas Gas have played a big role in reducing the index.
The Textile sector had the top position in terms of turnover. The total turnover of this sector was Tk 201.75 crore, which is 13.79 percent of the total turnover.
Fuel and Power sector was at the second highest position of turnover, where traded Tk 163.9 crore and Engineering sector at third position worth Tk 131.4 crore.
Investors' interest in buying shares at the start of trading on Sunday continued to decline as the day progressed. Especially after 1:25pm, the pressure to sell shares increased. As a result, the way the index rose at the beginning of the transaction, it slowed down towards the end.
Shares of Beximco Limited were the most-traded company on the DSE on Sunday followed by Fortune Shoes, RAK Ceramic, Paramount Textile, Power Grid, Fareast Life, GPH Ispat, Peninsula, Lovello and Titas Gas.
Meanwhile, CASPI, the overall index of the Chittagong Stock Exchange (CSE), increased by over 21 points to 20,567 points and securities worth Tk 42.43 crore were traded on the day.