Turnover at DSE in the red on lingering confusion
BI Report || BusinessInsider
Published: 20:14, 6 December 2021 Update: 20:26, 6 December 2021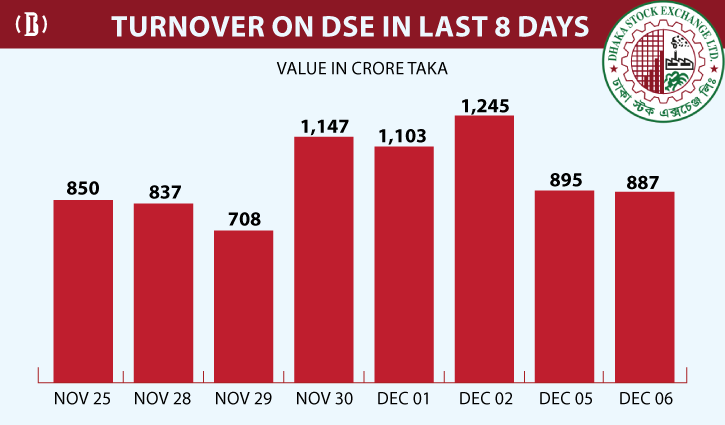 Photo illustration: Business Insider Bangladesh
The lingering confusion among general investors over an ongoing disagreement between Bangladesh Bank (BB) and the Bangladesh Securities and Exchange Commission (BSEC) has pulled the turnover on Dhaka stocks even further down.
To resolve the issue of investment limit of the bank on stocks, the finance ministry has called a meeting with both the regulatory bodies on Tuesday.
Investors are still in a cautious stance, waiting for the outcome of the meeting which has been bleeding the volume of transactions for several days.
The trend on Dhaka stock in the last four days has been similar — slow turnover with upward index.
The turnover decreased more on Monday than the last few days. The DSE had a turnover of Tk 887.13 crore on the day, down by 7.85 crore or 0.87 percent from the previous session.
Meanwhile, the index rose for the fourth day in a row on Monday on the Dhaka Stock Exchange.
DSEX, the benchmark index of DSE, increased by 12.90 points, or 0.18 percent, to close the day at 6,978.53.
The shariah-based index DSES was up by 3.60 points or 0.24 percent, but the blue-chip DSE-30 index decreased by 3.62 points or 0.13 percent.
On the day, BATBC contributed the most to the growth of the index.
The company's share price rose by 1.14 percent. As a result, the company added 4.6 points to the index.
Besides, BRAC Bank added 1.95 points to the index, Genex Infosys 1.24 points, SPCL 1.23 points, and LafargeHolcim 1.08 points.
The banking sector again surpassed everyone in turnover.
The total turnover in this sector was Tk 152.4 crore, which is 17.94 percent of the total turnover of the day.
Although the best in transactions, most companies in the banking sector lost prices.
Of the 32 companies in the banking sector, prices rose by only 10 or 31.25 percent, decreased by 18 or 56.25 percent and remained unchanged by 4 or 12.50 percent.
Of the shares of 371 companies traded on the day on DSE, 218 companies or 58.76 percent witnessed an increase, 118 companies or 31.81 percent saw a fall in prices and 35 companies or 9.43 percent remained unchanged.
Shares of Beximco Limited were the most traded0company on the DSE followed by Genex Infosys, First Security Islami Bank, SKICL, ONE Bank, Makson Spinning, Sonali Paper, Fortune Shoes and Orion Pharma.
Meanwhile, CASPI, the overall index of the Chittagong Stock Exchange (CSE), decreased by 13.19 points to 20,402.73 points and securities worth Tk 35.20 crore were traded on the day.