DSEX drops below 7000 mark again
BI Report || BusinessInsider
Published: 19:48, 24 November 2021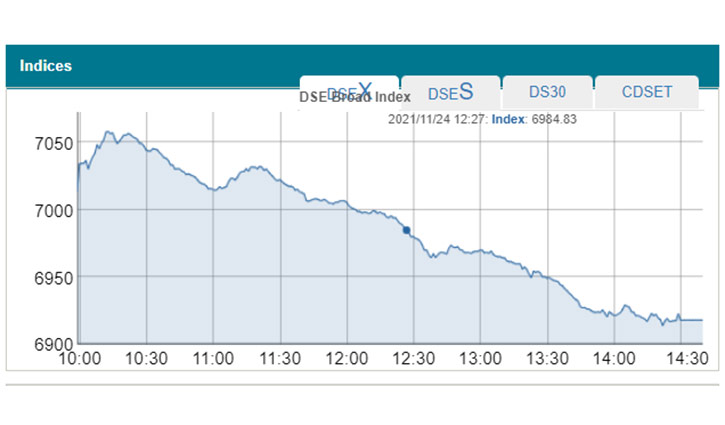 DSE indices on Wednesday
DSEX, the benchmark index of the Dhaka Stock Exchange, fell again below 7,000 mark.
On Wednesday, DSEX fell by 95.08 points, or 1.35 percent, to 6,917.91 points, lowest in the last 12 working days. Earlier, on November 15, the index went below 7,000 points. On that day, DSEX was at 6,941.36 points. On November 9, the index hit at 6,868.08 points.
Wednesday's big fall has also hit DSE's market capitalisation hardly. Within a day, the market capitalisation fell by Tk 5,172 crore to Tk 5,49,739 crore.
The DSE had a turnover of Tk 1,129.55 crore on Wednesday, down by Tk 185.05 crore from the previous working day. The transaction was very slow from the beginning on Wednesday.
The total turnover was less than Tk 1,000 crore till 2pm. However, in the last 15 minutes, even though the turnover crossed Tk 1,000 crore, it was not enough to cheer up the investors.
Among other DSE indices, the shariah-based index DSES was down by 16.57 points or 1.12 percent and the blue-chip DSE-30 index declined by 29.48 points or 1.10 percent.
Of the shares of 365 companies traded on the day, 259 companies or 71.54 percent saw a fall in prices, only 75 companies or 19.89 percent witnessed an increase, and 31 companies or 8.56 percent remained unchanged.
Shares of ONE Bank were the most-traded company on the DSE on Wednesday followed by Beximco, IFIC Bank, First Security Bank, Delta Life Insurance, Paramount Textile, Saif Powertech, NRBC Bank, Fortune Shoes and Beximco Pharmaceuticals.
Meanwhile, CASPI, the overall index of the Chittagong Stock Exchange (CSE), decreased by 246.12 points to 20,269.76 points and securities worth Tk 58.60 crore were traded on the day.