Dhaka stocks dip for 3rd straight day
BI Report || BusinessInsider
Published: 17:01, 23 November 2021 Update: 19:51, 23 November 2021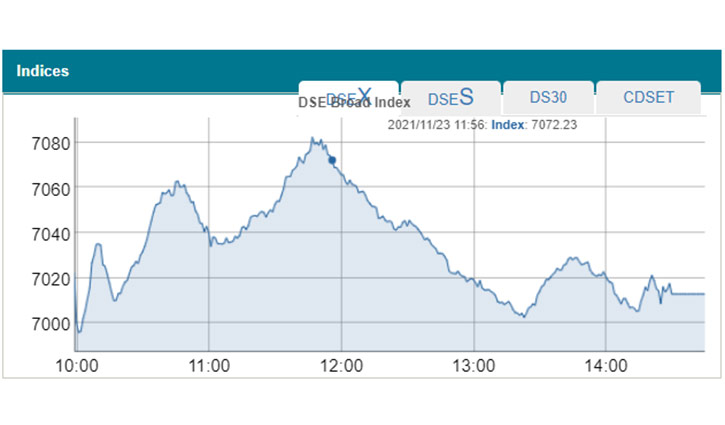 DSE indices on Tuesday
Trading on the Dhaka Stock Exchange ended on Tuesday with all indices falling. With this, Dhaka stock saw the fall of the index for third consecutive day.
Shares of most companies declined along with the index. However, the turnover increased slightly compared to the previous working day.
On Tuesday, DSEX, benchmark index of the DSE, fell by 9.28 points, or 0.13 percent, to 7,013 points.
Among other DSE indices, the shariah-based DSES fell by 2.39 points or 0.16 percent and the blue-chip DSE-30 decreased by 6.13 points or 0.23 percent.
Market insiders say the pressure to sell shares of most companies, including from bank and insurance sectors, was much greater on Tuesday. In particular, the banking sector played a role in reducing index amid the selling pressure.
Only one-third of 32 banks listed on the Dhaka Stock Exchange (DSE) gained while 17 experienced a fall in their prices on the day.
Analysts think that the Investment Corporation of Bangladesh (ICB) saved the market from a big fall by buying shares and giving support to the market.
Of the shares of 368 companies traded on the day, 176 or 47.83 percent saw a fall in prices, 156 or 42.39 percent witnessed an increase, and 36 or 9.78 percent remained unchanged.
The DSE had a turnover of Tk 1,314.60 crore on Tuesday, up by Tk 88.85 crore from the previous session.
Beximco Limited, which is at the top of the list almost every day, and a bunch of companies, including two from the Square Group, started trading at the end of the record date, but did not recover.
On this day, United Power played a key role in the fall of the index. After an announcement of a dividend of Tk 17 per share, the company's share price fell by Tk 14.9 at the end of the record date.
The index also declined due to the fall in the price of GPH Ispat due to the fall in share price after the adjustment of dividends. Walton, BRAC Bank, ICB, DutchBangla Bank, Square Pharma also lost points from the index due to falling prices.
Shares of Genexil Infosys, Beximco Limited and Trust Bank also declined.
On the other hand, Beximco Pharma, Grameenphone, One Bank, Robi, Power Grid, Saif Powertech, ACI, Unique Hotel, BBS Cables and MI Cement contributed some points to the index.
Meanwhile, CASPI, the overall index of the Chittagong Stock Exchange (CSE), decreased by 43.11 points to 20,515.89 points and securities worth Tk 52.93 crore were traded on the day.