Dhaka stocks advance for 3rd day
BI Report || BusinessInsider
Published: 17:40, 28 October 2021 Update: 19:42, 28 October 2021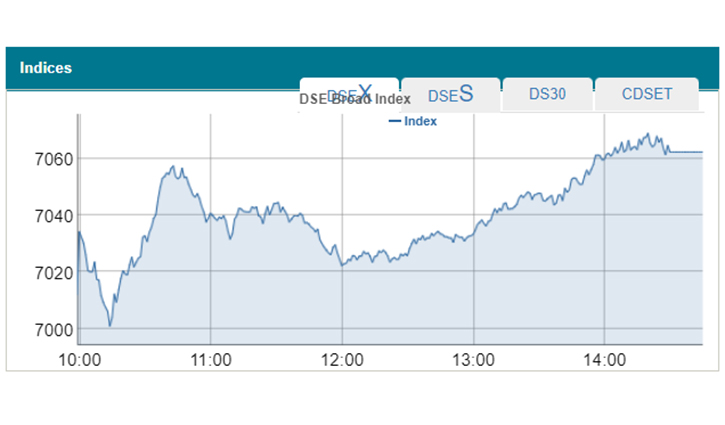 Dhaka stock indices on Thursday
Three companies — Beximco, Pubali Bank and Grameenphone — played a major role in pulling the index in the Dhaka stock market on Thursday, the last working day of the week.
Beximco added over 53 points, Pubali Bank added nearly 37 points and GP added over 36 points to the index on the day.
However, the index could have risen further if the share prices of large-capital companies United Power, British American Tobacco and Walton Industries had not fallen.
These three companies contributed to the reduction of the index by about 456 points.
On Thursday, the DSE's key index, the DSEX, rose by 50 points to 7,061. However, other indices declined. The shariah-based DSES decreased by 2 points and the blue-chip DSE-30 declined by 5 points.
Over Tk 1,724 crore was traded on the DSE on the day. That was the highest transaction since October 13.
In the first two days of this week, the index decreased by 190 points on Sunday and Monday. However, the index rose by 120 points on Tuesday. After 6 points rise on the next day, it increased by 50 points on Thursday, meaning that it increased by 176 points in three days.
Market insiders say the rise of index was very important to investors' confidence. Panic spread as the DSEX plunged below 7,000 points and the market collapsed. That panic has now begun to subside.
Investors are becoming more confident is seen in transactions. Earlier on the day, 37 companies declared dividends. Of these, 13 companies decided not to pay dividends, but their trading increased.
The rise in the banking, insurance, textile and financial sectors led to a big rise in the index.
Of the 32 companies in the banking sector, 28 rose, three fell and one remained unchanged. The transaction was worth Tk 260.90 crore.
Of the 23 companies in the financial sector, the prices of 17 rose and 4 decreased and one remained unchanged. The transaction was Tk 85.90 crore.
Of the 51 companies in the insurance sector, 37 rose and 14 declined and shares worth Tk 172.40 crore were traded.
In the textile sector, the prices of 46 items went up, 10 items went down and three remained unchanged. The turnover in this sector was Tk 284.94 crore.
Shares of Beximco were the most-traded company on the DSE on Thursday followed by IFIC Bank, Malek Spinning, Orion Pharma, Saif Power, BATBC, Delta Life Insurance, Fortune Shoes, NRBC Bank and Hamid Fabrics.
Meanwhile, CASPI, the overall index of the Chittagong Stock Exchange (CSE), increased by 175.80 points to 20,628.90 points and securities worth Tk 63.68 crore were traded on the day.