Stocks dip for 5th straight day
DSEX down 56 points, avoided massive fall backed by BATBC
BI Report || BusinessInsider
Published: 20:56, 17 October 2021 Update: 02:27, 18 October 2021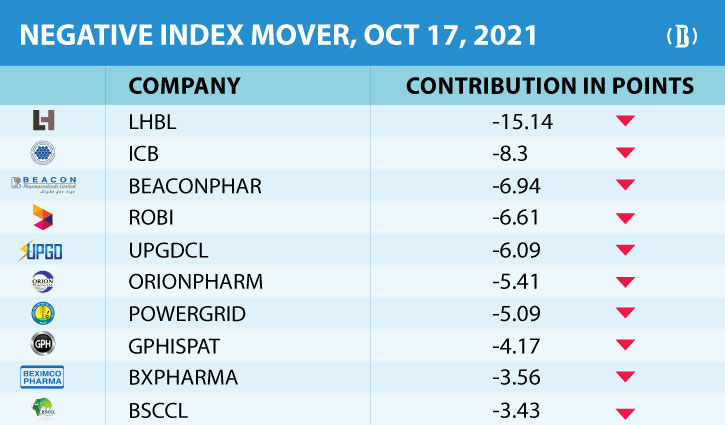 Photo illustration: Business Insider Bangladesh
If the share price of British American Tobacco Bangladesh (BATBC) did not increase, the benchmark index of Dhaka Stock Exchange (DSE) would have gone down by more than 31points.
According to DSE data, the stock price of BATBC rose 3.77 percent, which contributed to nearly 31 points in the index. Yet, DSEX went down 56 points on Sunday, the fifth straight day of fall.
Apart from the banking sector, shares of most companies, including insurance, financial institutions and textile sector, drove the market down.
Earlier in the morning, the market began trading with a positive note. In just two minutes into the trade, DSEX shot up by 36 points and the momentum continued for three hours. But after that the markets started going down like what the investors saw in the last four trading days.
Market insiders said the ongoing probe against nine companies for their alleged price manipulation have had an impact on the market as these companies are trying to spread panic so that they could avoid regulatory actions.
Besides, share prices of some overvalued companies started declining.
"Due to these two reasons, the market has been in the red for the last five days," a broker commented.
He said some investors panicked and sold their shares fearing further fall. As a result, sales pressure increased.
Over Tk 1,655 crore worth of shares were traded in the DSE on Sunday which is over Tk 221 crore more than the previous session.
Fortune Shoes was the most-traded company on the DSE on Sunday followed by IFIC Bank, Orion Pharmaceuticals, LafargeHolcim, NRBC Bank, BATBC, Delta Life, Genex Infosys, Beximco and Sonali Paper.
Meanwhile, the overall index CASPI of the Chittagong Stock Exchange (CSE), decreased by 94.19 points to 21,022.52 and securities worth Tk 63.82 crore were traded on the day.