LafargeHolcim posts 106% EPS growth in Q3
BI Report || BusinessInsider
Published: 03:26, 15 October 2021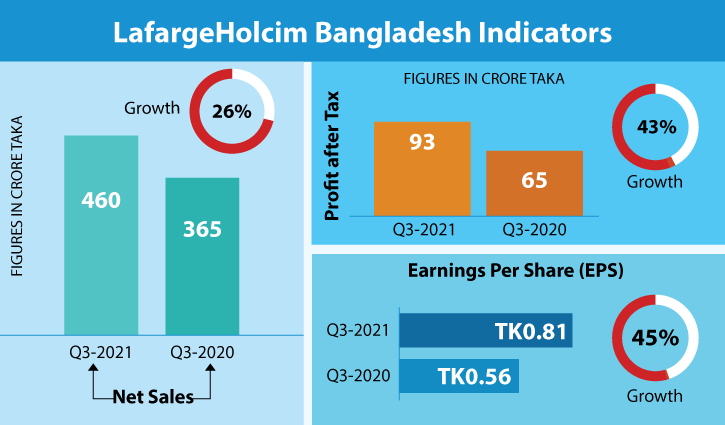 Photo illustration: Business Insider Bangladesh
Strong domestic demand after the withdrawal of the lockdown in early August boosted LafargeHolcim's production and sales in the third quarter of 2021, the multinational company said on Thursday.
Net sales of the cement maker shot up to over Tk 460 crore in the third quarter till September, up by 26 percent than the same quarter a year ago. Earnings before income tax increased to Tk 121 crore from Tk 84 crore in the previous year.
In the first nine months of 2021, the company achieved superlative EPS growth — 106 percent — supported by cost optimisation and digital initiatives.
"The company has delivered yet another exceptional quarter backed by strong cost control and efficiency improvements," said Rajesh Surana, CEO of LafargeHolcim Bangladesh Ltd.
In addition, he said the company's new products were highly successful and customers continue to keep faith in LafargeHolcim's widest range of products and solutions.
"Our digital business has taken off to a new league of growth and creates potential for continued momentum. We thank our employees and business partners for their continued support that ensured the growth momentum," said Surana.
Lafarge said Bangladesh's cement industry has experienced continuous growth in recent years. The industry experienced approximately an 11.5-percent growth rate over the last decade. Backed by the country's economic development, rapid urbanisation, government infrastructure projects, and real estate sector growth, Lafarge is optimistic about the future prospects of the industry.
LafargeHolcim Bangladesh is a leading cement producer in Bangladesh. Operating for almost two decades, it has invested $500 million in building one fully integrated cement plant and three grinding plants, the largest foreign direct investment in the sector.
Surma Holding BV incorporated in The Netherlands, owns 58.87 percent shares of the company, which is owned by Holcim Group based in Switzerland and Cementos Molins based in Spain with a 50:50 shareholding ratio.