Commerce ministry urges NBR to withdraw import tax on onion
Published: 19:27, 11 October 2021 Update: 04:32, 12 October 2021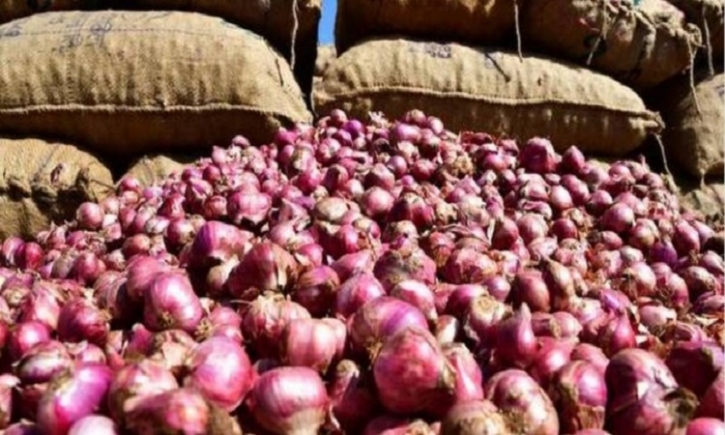 File photo
Amid the skyrocketing price hike of most of the daily essentials, the commerce ministry has urged the National Board of Revenue (NBR) to withdraw import duty on onion because of its price has shot up to Tk 70 per kg at retail level.
Apart from this, the ministry has also requested the NBR to reduce import duty on sugar, unrefined soybean and palm oil to minimise the burden of the increasing prices of the daily essentials.
AHM Shafikuzzaman, additional secretary of the commerce ministry, told reporters after emerging from a meeting with the traders at his ministry office in Dhaka this noon.
The commerce ministry came up with the call to keep the supply and prices of the daily essentials normal and stable in the market, he said.
Officials of the NBR, Trading Corporation of Bangladesh (TCB) and trade bodies' leaders attended the meeting while Commerce Minister Tipu Munshi took part in the meeting virtually.
The ministry has requested chairmen of all land ports in the country to take measures to ensure smooth plying of onion-laden trucks, he said.
Two teams led by the commerce ministry will monitor all markets under Dhaka north and south city corporations to keep supply and prices of the daily essentials under control and stable.
Besides, district administrators, Upazila Nirbahi Officers and the officials of the Directorate of National Consumer Rights Protection will be continually monitoring the market situation across the country to make the efforts successful, he said.
The government has already procured 15,000 metric tonnes of onion from India and Turkey and the process is under way to buy more onion from other sources to meet the local demand, the government official said.
While responding to a question, Commerce Secretary said, "We are not only monitoring the retail market but the tariff commission and agencies are also observing wholesale level price, especially that of edible oil."
He also said there are import duties on imported lentils and that the ministry has asked the NBR to cut supplementary duties and advance income tax