Not very muted Eid for TV drama makers
BI Report || BusinessInsider
Published: 20:43, 20 July 2021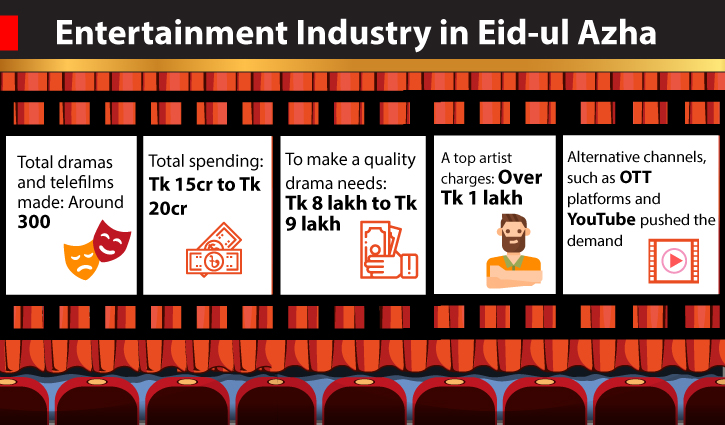 Business Insider Bangladesh image
Two Eid festivals are the perfect time for Bangladesh's drama makers as they know this is the peak time to reach out to more viewers.
In terms of commercial viability, the time is also favourable for producers as around three dozen TV channels in Bangladesh run special programmes to get in more viewers who spend most of the time with family members under one roof during Eid holidays.
Though Covid-19 lockdown have restricted directors to shoot outdoors, they have made most of the shooting indoors and this way they have made around 300 dramas and telefilms for TV channels, OTT platforms and YouTube centring Eid-ul Azha.
According to industry insiders, altogether Tk 15 crore to Tk 20 crore has been spent to make these dramas and telefilms.
Yet, it is not normal as the ongoing pandemic has affected the entertainment industry like other business sectors, said Salauddin Lavlu, president of the Directors Guild.
"This year we have made around 60 percent of the dramas and telefilms we used to do in pre-pandemic time," Lavlu, also a popular actor, told the Business Insider Bangladesh.
"Demand was there, but we could not finish all the work due to the lockdown."
He said many of the elderly artists could not go out fearing coronavirus infection. Even after taking special approval amid the lockdown, everyone has avoided outdoor shooting, he said.
Lavlu said that most of the dramas they made this time will be aired on TV channels. In addition, many dramas have been made for various YouTube channels and OTT platforms, which are getting popular amid the pandemic.
Industry insiders said it costs Tk 8 lakh to Tk 9 lakh to make a drama with 'most wanted' artists and Tk 6 lakh for a medium quality drama. Some dramas are made with only Tk 2 lakh to Tk 3 lakh.
Mahmud Niaz Chandrodip, another director, said cost for making a drama has increased significantly as the demand for popular artists has gone up amid the alternative channels, such as OTT and YouTube.
"Some directors are spending Tk 10 lakh to make a quality drama. I have never seen it before," Niaz told the Business Insider Bangladesh.
He also pointed out about a shift in TV channels as some of those make dramas for themselves. But most of the channels buy dramas from makers, he noted.
Apart from advertisers, drama makers are also making money from online platforms, which are now benefiting many, he added.
"So, the budget and quality of the drama are improving day by day," he added.