Bongo BD's Latest: 'F2: Fun and Frustration' in Bengali
BI Report || BusinessInsider
Published: 17:48, 26 September 2023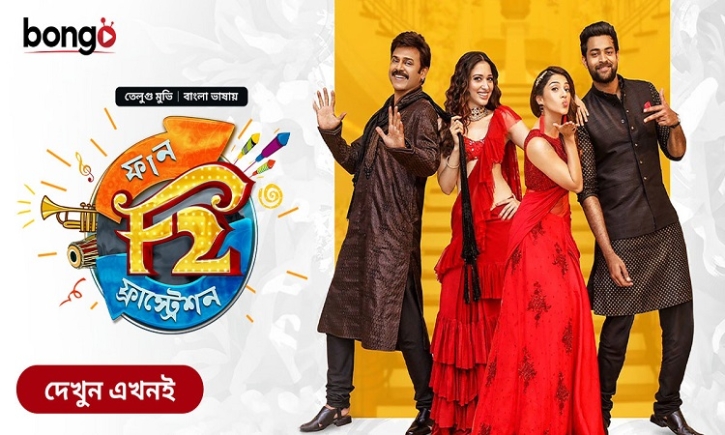 Photo: Collected
Bongo BD, the leading OTT platform in Bangladesh, is thrilled to announce the addition of the highly acclaimed South Indian comedy film 'F2: Fun and Frustration' to its extensive content library.
This week, Bongo BD has brought the uproarious laughter and entertainment of 'F2' to its viewers in full Bengali.
Starring an ensemble cast of renowned actors, including South superstar Daggubati Venkatesh, Tamannaah Bhatia, and Varun Tej, 'F2: Fun and Frustration' promises a riot of laughter and a rollercoaster of emotions.
The film's narrative takes a hilarious twist as it unfolds the story of two Indian young men who find themselves in a sticky situation, caught by foreign police under allegations of molesting two women on the street.
However, there's a comical twist—these men claim that one of the women is the wife of one, and the other is destined to be the wife of the other! Yes, they were indulging in what's colloquially known as "Eve teasing" with their wives.
To uncover the secrets behind this uproarious scenario, viewers are encouraged to tune in and enjoy the rollicking ride of 'F2: Fun and Frustration.'
This South Indian comedy gem offers a delightful blend of action, romance, and emotions, all wrapped up in the side-splitting quarrels and escapades between husbands and wives.
Ariful Islam, assistant manager of Digital Marketing of Bongo BD, expressed his excitement about bringing this unique comedy genre film to the platform.
He stated, "Bongo always strives to offer diverse and engaging content to our audience.
"F2' is a prime example of such eclectic content. We're delighted to bring this comedy masterpiece to our viewers, with the hope of putting smiles on their faces. The movie is already generating buzz on various social media platforms, including Facebook and Instagram, which is a source of great joy and pride for us," he said.
'F2: Fun and Frustration' has been available for streaming on the Bongo platform since September 23rd, providing viewers with a dose of laughter and entertainment.
To enjoy this hilarious movie for just 10 Tk, all you need to do is download the Bongo app from your phone's Play Store/App Store or visit their website at www.bongobd.com.