Shikari: The latest hit series on Bongo BD
BI Desk || BusinessInsider
Published: 14:09, 18 September 2023 Update: 14:09, 18 September 2023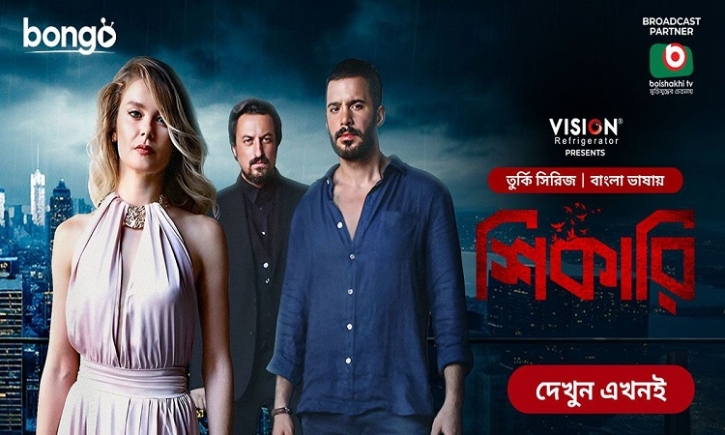 Photo: Courtesy
Bongo BD, the nation's popular OTT platform, is proud to announce the exciting addition of the Bengali dubbed version of the hit Turkish drama 'Kuzgun' - 'Shikari' to its content library.
This captivating series, currently airing its first season, has already taken the audience by storm with its intriguing storyline and exceptional response.
'Shikari' narrates the story of Rudra, a young man whose life is shattered when his family is torn apart by the machinations of his own father, a cunning police officer.
In the face of overwhelming sadness, suffering, pride, anger, and heartache, Rudra embarks on a journey of relentless struggle in pursuit of justice.
The series delves into the depths of his determination and showcases the arduous path he treads. But the question remains: Will Rudra succeed in this formidable quest?
To unravel this gripping tale, viewers are invited to immerse themselves in the captivating world of 'Shikari.'
Bongo BD has always been dedicated to bringing the best in entertainment to its viewers, and 'Shikari' is yet another testament to their commitment.
The series is a remarkable addition to their collection of Bengali versions of foreign content, catering to the diverse tastes of their audience.
Speaking about the release, Kazi Asifuzzaman, executive at Bongo BD, expressed his enthusiasm, saying, "We are thrilled to introduce 'Shikari' to our viewers. Turkish dramas have consistently garnered a massive following, and 'Shikari' promises to be no exception. We believe this series will captivate our audience with its compelling narrative, intricate characters, and powerful performances."
In addition to 'Shikari,' Bongo BD has also curated a collection of other popular Turkish series, including 'Rehana,' 'Sahasr Ek Rajni,' 'Aakash Jai Megh,' and more. These titles have received rave reviews from the audience and continue to be beloved choices for those seeking top-notch entertainment.
It should be noted that in this series, Bongo has partnered with Boishakhi TV as its broadcasting collaborator.
Don't miss out on the excitement - join us on Bongo BD to embark on Rudra's journey in 'Shikari.' Stay tuned as the series unfolds, and prepare to be enthralled by the drama, emotion, and quest for justice that awaits.
For more information and to start streaming, visit www.bongobd.com.