Hasan for taking country's film industry to global arena
BI Desk || BusinessInsider
Published: 20:40, 21 June 2023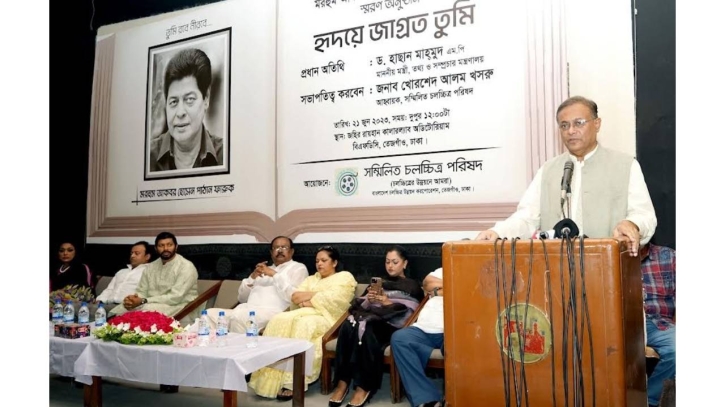 Photo: Collected
Information and Broadcasting Minister and Awami League Joint General Secretary Dr Hasan Mahmud on Wednesday said the good days of films are back and the industry is turning around thanks to positive measures taken by Prime Minister Sheikh Hasina's government following the COVID-19 pandemic.
"Our aim is to make sure our films get place in the global screen and it is be possible," he said.
The minister was addressing a memorial meeting at an auditorium of Bangladesh Film Development Corporation (BFDC) in the capital.
Sammilita Chalachithra Parishad (SCP) organised the meeting in memory of country's eminent film actor and Member of Parliament Akbar Hossain Pathan, popularly known Farooque.
At the beginning of his speech, Hasan paid glowing tribute to Farooque and recalled his contribution as an actor in film arena and politics as well.
He said the country's film industry has passed a recession for about two and a half years due to COVID-19 situation. But now, many cinemas are being produced, he added.
The minister said the government has formed a fund of Taka 1000 crore to provide loan with low interest to construct and renovate cinema halls and Cineplexes. Besides, a new building complex along with an auditorium, four shooting floors, two Cineplexes and two swimming pools are being constructed at BFDC, he added.
He said the amount of grant for making films has also increased and a total of 23 cinemas got grants this year.
The minister lauded the recognition achieved by many local film directors, actors and actresses from international forums and hoped that the film industry would be able to ensure its position at global level.
Dr Hasan recalled actor Farooque's brilliant performance in many films including 'Golapi Ekhon Traine' 'Sareng Bow' and 'Sujan Sokhi'. He will ever be remembered forever through these movies, said Hasan.
He said Farooque was a freedom fighter and a lawmaker. He achieved lifetime film award and contributed a lot for development of the film industry, he added.
SCP joint convenor Kazi Hayat, actresses Rozina, Aruna Biswas and Nipun, actor Riaz, director Musfiqur Rahman Gulzar, producer and distributor Mohammad Hossain, photographer Abdul Latif Bachchu, video editor Abu Musa Debu and BFDC director general Nuzhat Yesmin, among others, addressed the meeting while SCP's convenor Khorshed Alam Khasru was in the chair. SCP member secretary Shah Alam Kiran conducted the meeting.