The 10 most-followed Instagram accounts in the world
Anima Tabrizi Khan Majlis || BusinessInsider
Published: 12:05, 30 November 2022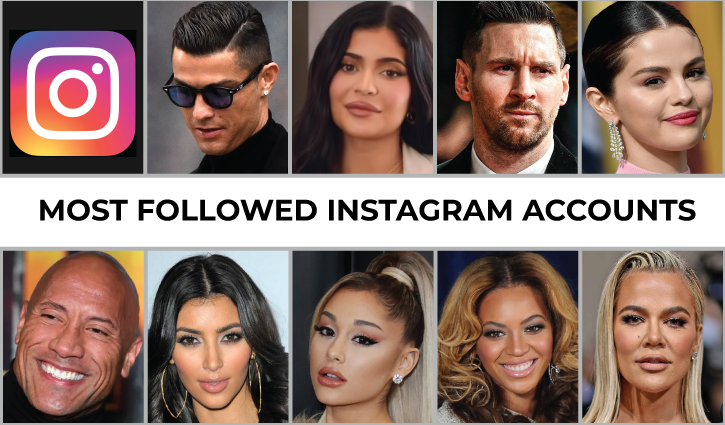 Photo: Collected
Instagram has evolved into a lot of things since its launch in 2010. It helps to keep in touch with old friends. It's a portfolio for creative of all kinds to showcase their work. Also, a shopping and e-commerce platform. The app has even helped to create a new kind of celebrity; Instagram influencers. When it comes to the biggest names on Instagram, we see some fairly usual suspects: Cristiano Ronaldo became the first human to break the 400 million mark, with Kylie Jenner not far behind, Instagram's own profile amassed half a billion, pop stars continued trading places and yet another Kardashian entered the top ten.
1. Instagram (@instagram)
Followers: 516 million
Instagram is the most-followed account, boasting over 500 million followers.
2. Cristiano Ronaldo (@cristiano)
Followers: 451 million
Cristiano Ronaldo is the first to break into 400 million followers.
3. Kylie Jenner (@kyliejenner)
Followers: 345 million
The youngest "self-made" billionaire in 2019 by Forbes is the first woman to break 300 million followers on Instagram. Kylie Jenner's: Kylie Cosmetics, Kylie Skin, Kylie Swim, Kylie Baby and more — continues on. Jenner reclaimed her number three spot from Leo Messi at the start of 2022, remaining the most-followed woman in the world.
4. Lionel Messi (@leomessi)
Followers: 334 million
The Argentine footballer has proven himself quite adept at social media being Ronaldo's rival on the pitch to Ronaldo's rival on the 'Gram. To chasing Kylie Jenner for the #3 spot.
5. Selena Gomez (@selenagomez)
Followers: 325 million
Selena Gomez she has been the fastest climber on the list as of late; her shoots, plandids and candids make excellent content for her feed. Using her platform for good, Gomez talks openly about mental health and encouraging followers to educate themselves on the importance of mental fitness.
6. Dwayne "The Rock" Johnson (@therock)
Followers: 320 million
Former WWE champ, The Rock, built his ever-increasing following with a highly motivating feed of life and workout inspiration.
7. Kim Kardashian (@kimkardashian)
Followers: 316 million
It's no surprise to see Kim Kardashian in the top ten; the premiere of The Kardashians means we'll still be seeing plenty of Kim on all of our screens.
8. Ariana Grande (@arianagrande)
Followers: 315 million
With a feed filled with teasers of what she's got in the works, plus glimpses into her personal life, Ariana Grande has given her fans plenty of reason to follow along in recent years.
9. Beyoncé Knowles (@beyonce)
Followers: 261 million
Queen Bey occasionally gives us intimate glimpses into her and her family's world through social media.
10. Khloe Kardashian (@khloekardashian)
Followers: 249 million
Khloe Kardashian is the last one the list with 249 million followers. Her being a Kardashian means that she was bound to find herself on the list of most-followed Instagrammers.