10 most popular K-Pop groups
Anima Tabrizi Khan Majlis || BusinessInsider
Published: 18:47, 30 September 2022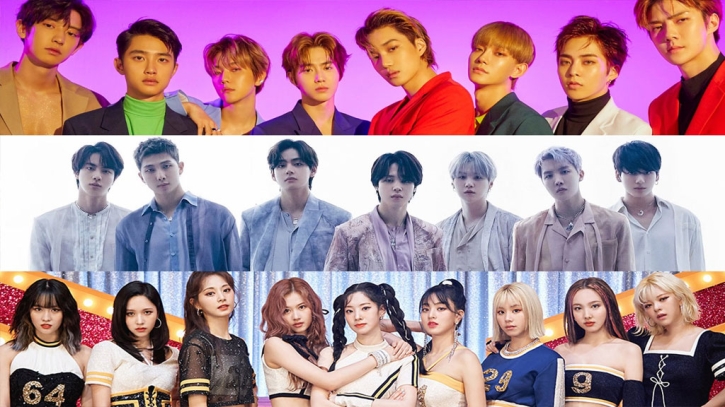 Photo: Collected
K-Pop stands for Korean Pop. A genre originating from South Korea has quickly become famous worldwide. Although K-Pop refers to Korean Pop, they are not only limited to pop culture. From Pop rock, jazz, hip-hop, and electronic dance to folk and classic, various genres are associated with it.
Let's look at the list and find out whether your favourite K-Pop group has made it to the list.
BTS
Bangtan boys otherwise known as BTS are the most popular group of the world. This boy band consists of seven members namely: Kim Namjoon, Kim Seokjin, Jung Hosoek, Park Jimin, Kim Taehyung, and Jeon Jungkook. BTS debuted in 2013 under Big hit entertainment.
EXO
The EXO group members are: Suho, Xiumin, Lay, Baekhyun, Chen, Chanyeol, D.O, Kai, and Sehun. EXO was formed by SM Entertainment in 2011 and debuted in April 2012.
BLACKPINK
K-pop girl group BLACKPINK is the most famous female group in the world. There are only four members: Lisa, Rose, Ji Soo, and Jennie. BLACKPINK debuted in 2016. Since then, they have achieved massive success. From becoming the first female group to top the billboard Artist 100 chart in US, they have also been recognized as the first ever K-pop group to get 1 billion YouTube views on a music video. They truly are the best female group in the world.
TWICE
South Korean girl K-pop group Twice consists of nine members: Jihyo, Sana, Momo, Jeongyeon, Nayeon, Mina, Dahyun, Chaeyoung, and Tzuyu. Twice formed by JYP Entertainment in 2015.
GOT7
The GOT7 band consists of members: Jay B, Mark, Jackson, Jinyoung, Youngjae, BamBam, and Yugyeom. They were formed in 2013 by JYP Entertainment.
ENHYPHEN
Enhyphen is one of the hottest K-Pop groups in the world. Enhyphen consists of seven members: Heeseung, Jay, Jake, Sunghoon, Sunoo, Jungwon and Ni-ki. Since making their debut in 2020, they have won four 'Rookie of the year' awards and more recently emerged as the Best Artist at the Asia Artist awards 2021.
RED VELVET
The group Red Velvet consists of five members: Irene, Seulgi, Joy, Wendy, and Yeri. They are managed by SM Entertainment.
GIRLS' GENERATION/SNSD
SNSD, also known as Girls' Generation, is one of the most popular girl groups in South Korea. The girl group consists of eight members: Taeyeon, Sunny, Tiffany, Hyoyeon, Yuri, Sooyoung, Yoona, and Seohyun.
BIGBANG
BigBang was formed in 2006. They have four band members: G-Dragon, T.O.P, Taeyang, and Daesung.
STRAY KIDS
Stray Kids has eight members in their group: Bang Chan, Lee Know, Changbin, Hyunjin, Han, Felix, Seungmin, and IN. They were formed in 2017 and are managed by three labels: JYP, Epic Japan, Republic.