'Manomanthan' art exhibition concludes at Chitrak in city
BI Report || BusinessInsider
Published: 16:49, 26 May 2022 Update: 16:57, 26 May 2022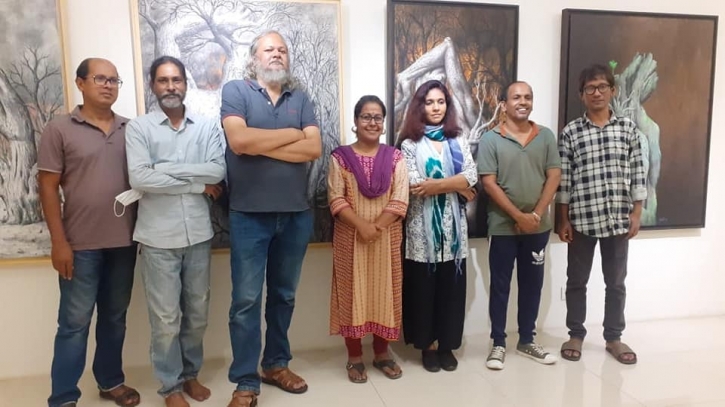 A group of seven artists concluded their 12-day exhibition Manomanthan (Mind-Churning) at the Gallery Chitrak in Dhanmondi, Wednesday. Photo: Collected.
As Covid-19 pandemic waned, artists got their life back like many other professionals and grabbed paintbrushes, canvas, acrylic, charcoal or graphite and produced some artworks.
A group of seven such artists concluded their 12-day exhibition "Manomanthan" (Mind-Churning) at the Gallery Chitrak in Dhanmondi, on Wednesday.
These artists worked in a culturally diverse and technologically advanced world yet highlighted their creativity on public life, cultural tension and social challenges.
Artists Mahmudur Rahman Dipon, Imran Hossain Piplu, AH Dhali Tomal, Ashraful Hasan, Anukul Chandra Mojumder, Shulekha Chaudhury and Farzana Rahman Bobby had displayed their works in the exhibition, which featured 70 artworks.
I found a number of artworks quite interesting! Imran Hossain Piplu has worked using graphite pencil and canvas which depicted a crow and a rooster.
His work titled Luxury in Lockdown shows a crow peeping out its head of a glass jar while most part of the jar's surface is covered by a rooster.
"When people were depressed during the pandemic I took advantage of it and started doing these artworks," he told Business Insider Bangladesh, on Tuesday.
He said: "When you feel comfortable under your quilt, you don't need that much space. That was what on my mind…and this crow or rooster are quite comfortable in a jar."
For those who are already familiar with the work of Imran Hossain Piplu, the appeal of the artist's new work seems to be more intense. A new Piplu is found in 'Manomanthan'. Piplu's work is a visual document that has brought unexpected changes in everyone's life during the Corona period.
The artwork of Shulekha Chaudhury is based on narrative feature where women play the central role. Besides, coexistence of nature has also taken place in the artist's presentation. However, the so-called 'negative semantic' elements in the symbolism are not used here in the conventional sense.
Deep observation of the viewer may reveal this new truth. Because crows, snakes, in these so-called unseen, evil creatures she has presented as a part of nature, so in the face of snakes we also see flowers or match sticks.
about hope on the horizon, if you could say," she told me. This artwork, titled Nishirat, is spreading an undefeated sense among the women folks who are surrounded by fear and insecurity, these days, she added.
Ghasful and Surjo Konna are two of Shulekha's favorite yellow paintings. These two images of Sulekha are illuminated in the light of the celebration of women's life. The painting entitled Shanti probably represents the Damama of the recent war.
On closer inspection, however, the artist's identification with the golden bullets and the names of the peace-loving warlords on the weapons gives a different dimension. In the work, she has written a manifesto of the nature and the peaceful coexistence of human beings (The Prince). The whole world may be looking forward to the future for such a prince, not just Shulekha.
Ashraful Hasan's work, human figures, on canvas with acrylic could be viewed as if the Mother Nature was in grieve. In the background of a work, an "inferno" could be resembled. In other work a sprouted plant is seen on top of a dead trunk---as if a new life is coming out. His works titled Reincarnation.
Six of the artists were born in the seventies of the last century, and one in the eighties. So they are in the middle of their works, it can be said. They have a reputation as artists. Many have been involved in art for more than two decades. That is why most of the artists in the exhibition find their established art language. Two artists - Mahmudur Rahman Dipan and Imran Hossain Piplu - have discovered a new art language. All work in the exhibition is two-dimensional. Through this one finds the visual unity here.
Earlier, Foreign secretary Masud Bin Momen inaugurated the exhibition on May 12 as chief guest. The inaugural ceremony was presided over by Awami League lawmaker, Ashim Kumar Ukil.
Desh Group of Company deputy managing director Vidiya Amrit Khan was present as special guest at the programme.