'Nonajoler Kabbo' to hit theatres in Bangladesh on November 26
BI Report || BusinessInsider
Published: 19:43, 23 October 2021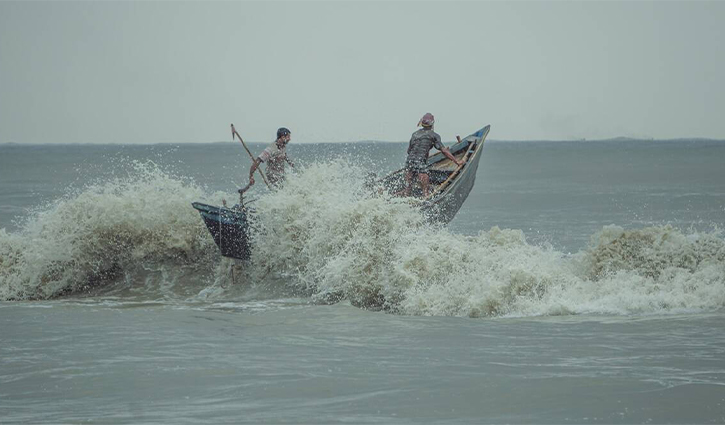 'Nonajoler Kabbo' (The Salt in Our Waters)
'Nonajoler Kabbo' (The Salt in Our Waters), a much acclaimed film by young writer-director Rezwan Shahriar Sumit which received awards at numerous international film festivals last year, will have its theatrical release in Bangladesh on November 26.
The date for the theatrical release of the film was revealed at a press conference on Saturday noon at the Dhaka Club in the capital, joined by the cast and crew members of the film, reports UNB.
Actors including Titas Zia, Fazlur Rahman Babu, and Tasnova Tamanna joined the press conference alongside director-producer Sumit, noted film director Amitabh Reza, Star Cineplex chairman Mahboob Rahman Ruhel and the music director for the film Arnob.
'Nonajoler Kabbo' has performed at major festivals in London, Busan, Goteborg, Seattle, Sao Paulo, Torino, and Singapore. The film is now making its way beyond the festival circuit, to the upcoming United Nations Climate Conference COP26 this year in Glasgow, Scotland.
At the UN Climate Conference of Youth COY16, the first screening of 'Nonajoler Kabbo' will take place in front of young climate leaders from all across the world. The second showing will take place at the Cinema Auditorium (IMAX theater) in the official COP26 Green Zone.
This summit is expected to attract a majority of international leaders including Bangladesh Prime Minister Sheikh Hasina.
The critically acclaimed film depicts an epic cultural confrontation in Bangladesh's climate frontlines, with the elemental battle of land and sea, man and nature functioning as an interactive setting for a dramatic meditation on tradition and modernity.
"I traveled to a remote fishing community in Patuakhali three years ago to make this film, and I'm sorry to inform you that the coastal village where we shot 'Nonajoler Kabbo' no longer exists. For 1.5 years, I was unable to return to the location due to the pandemic and when I returned to that beloved place and those beloved people, all I found were some broken tree branches and the rising tide," Sumit said at the event.
The sea level in this area has risen dramatically in the last 2-3 years, according to Sumit, and the high tide is regularly eroding the land, and Cyclone Amphan last year wreaked havoc.
"I met some of the fishing village brothers and sisters who acted in Nonajoler Kabbo," Sumit tells UNB, "Even Hilsa, they said, isn't as plentiful as it once was. I realized that their lives are far more horrific than the story in my film, thus I applied for the United Nations Climate Conference because I want to tell the world about these people's sufferings."
'Nonajoler Kabbo' was co-produced by Rezwan Shahriar Sumit and French producer Ilann Girard. The film features stunning visuals shot by award-winning Thai cinematographer Chananun Chotrungroj.
The film's editor, Academy Member Kristan Sprague, was nominated for six Oscars, including Best Picture this year, for her recent film 'Judas and the Black Messiah.' Rezwan Shahriar Sumit, the film's Bangladeshi writer and director, was awarded a writing grant by Spike Lee, who also mentored him at NYU Tisch's Grad Film Program.
'Nonajoler Kabbo' has won several national-international awards and grants, including the NETPAC Award (Best Asian Feature) at 26th Kolkata International Film Festival in 2021, TFL Audience Design Fund 2020, Bangladesh's National Film Grant in 2017, CNC Aide aux cinemas du monde 2018, and Spike Lee Writing Grant 2016, to name a few.