In review: Tamanna Islam's books
Sharda Zaman || BusinessInsider
Published: 03:34, 16 October 2021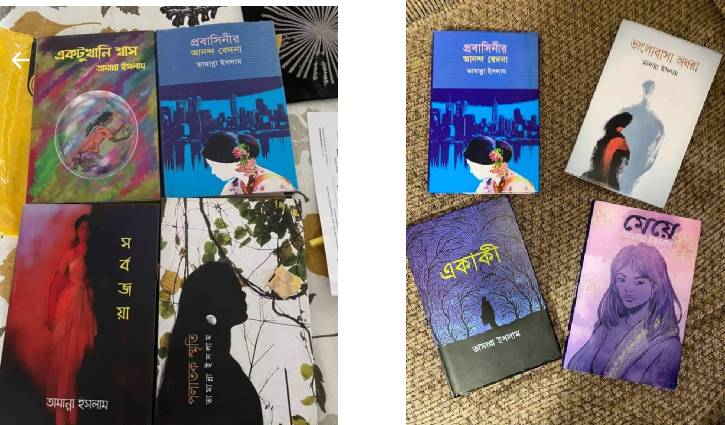 Tamanna Islam's books are seen in the illustration
Tamanna Islam is a software engineer by profession and lives in the United States. She writes regularly in Prothom Alo, Jago News, Shaptahik Bangali, and Women Chapter. She is actively involved in cultural programmes in her locality. The promising writer has so far written seven books. Tamanna donates all the remunerations she earned from the sales of books to the poor and underprivileged children of Bangladesh.
"Ektukhani Shash" is her poetry book and "Sharbojoya" is a short storybook.
"Polatok Shritee" was published by Shamogra Prokashan in February 2016 on the occasion of "Ekushey Book Fair". The stories of the short storybook are mainly based on love stories but few stories are collections of real life. The preface of the book is written by renowned author/journalist Anisul Haque.
The Article "Probashinir Ananda Bedona" was also published by Shamogra Prokashan in February 2016. It was centred on life in a foreign country. The main focus was to inform about the daily lifestyle of the people around, especially womenfolk of Bangladesh and young people who are still studying to develop themselves to succeed in life. Her respected teacher at BUET Kaikobad had written the preface of this book.
Her book "Bhalobasa Odhara'' was published by Oitijjhya in February 2017. The book is dedicated to all the womenfolk of Bangladesh whose different lifestyles and strong mentality captivate the author. The book consists of 19 short stories. Different lifestyles of human beings and humanity are the main themes of the stories of this book. The characters in her stories, maybe her neighbours, may be little known to her but she is continuously successful to portray their feelings appropriately to astonish the readers. As a woman naturally, she came across the women folk most, which helps her understand their different lifestyles. People living all around her and their lifestyle, ups, and downs were depicted spontaneously and gracefully in her stories, especially different facets of women's life such as their emotions and struggle of life. Humanity is another chapter that dominates her writing. Loves different faces in life's different stages amazed her. She always tried to extricate the problems of the society particularly left out women and through her writing, she tries to encourage them to build their life in a more robust way to sustain in this harsh world with respect and dignity.
"Ekaki" is a novel published by Shamogra Prokashan in February 2018. The book is dedicated to her Bengali school teacher Ismat Mohsin. The novel depicts the story of a suppressed youngster Nitu who is a well-known character to us. At the start of her life, she falls into a dangerous trap for a silly mistake that made her life hell. She, at last, succeeded in surviving that disaster and moved ahead all by herself alone. During that harsh struggle, she forgot that she had a love for someone that was also unknown to her. She struggled to survive in society and to her own family. Then came the character Adnan in her life who is the father of her daughter's friend. Adnan was also initially confused about how to approach Nitu. Finally, both of them overcame their confusions and got married and lived happily with their two daughters.
Pro Prokashoni published her book "Meye" in February 2021. She dedicated this book to her loving husband Ezaz. The book has 13 short stories. The name of the book is itself self-explanatory because the author is a woman and most of her stories are surrounded by the stories of womenfolk. The stories of this book revolve around incidents be it small or big happening all the time with human beings. Every human being's life is a story itself. Their emotions, success, demotion, love, sorrow everything is depicted in the characters especially womenfolk. The stories of "Chumu" and "Khuda" are based on Covid-19 situations. "Shontan" is based upon the drug addiction of adolescents.
After going through the above-mentioned five books the stories described seemed very natural and sometimes it gives the feeling that it is pretty similar to our own lives and what we go through in our daily life. But it seems all her thoughts are woman-centric. She should also look after other facets of life such as the beauty of nature, human life especially man. The cover of her books should be more attractive, colourful, and meaningful.
Sharda Zaman is a freelance content writer and works as an invigilator at the Examination Department of the British Council in Dhaka