Bangladesh and South Korea enhance trade, deepen cooperation
BI Report || BusinessInsider
Published: 21:14, 31 August 2022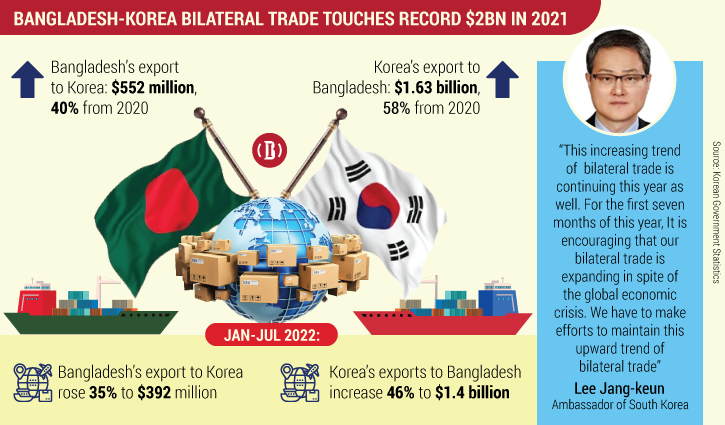 Graphics: Business Insider Bangladesh
Bangladesh and South Korea will enhance the scale of bilateral trade and further expand cooperation in areas including infrastructure and manpower, said Lee Jang-keun, South Korean Ambassador to Bangladesh on Wednesday.
Bilateral trade, which remained stagnant at below $1.6 billion for almost a decade after it peaked at $1.87 billion in 2011, reached $2.3 billion in 2021.
Korea also decided to enhance concessional loans to Bangladesh to help the country develop its infrastructure.
Ambassador Lee made the disclosure at a dialogue with the Diplomatic Correspondents Association, Bangladesh (DCAB) at the National Press Club on Wednesday.
"I would like to share with you that Korea has decided to significantly increase the size of Korea's soft loan, what we call EDCF, to Bangladesh to $3 billion from $700 million," Lee said.
This amount will be implemented during the next five years, between 2022 and 2026, he said adding that previously the size of this soft loan agreed between the two governments was $700 million during the five-year period of 2021 and 2025.
So far Korea has provided $1.34 billion of EDCF (Economic Development Cooperation Fund) concessional loans to Bangladesh for 27 projects, but the amount will be $3 billion in the next five years.
"With this increase, Korea can now assist bigger development projects in Bangladesh. I believe that this will help Bangladesh for the smooth graduation of LDC in 2026," said the top envoy of the Asian giant economy.
Replying to a query on the significant hike in EDCF loans, Lee said he is not sure about this big jump, but it may be that Korea is satisfied with the ongoing projects and their implementation. Also, Korean companies' engagement will increase because of EDCF loans.
He also said a new framework agreement in this regard will be signed soon by both sides.
Ambassador Lee also talked about the progress in manpower export from Bangladesh to Korea in recent years and foreign direct investment as well.
Before the pandemic, less than 2,000 Bangladeshi expatriate workers were sent to Korea annually. After the suspension of admitting new expatriate workers for almost two years, Korea resumed it in December last year.
"And this year, more than 3,000 Bangladeshi workers went to Korea between January and August. By the end of this year we expect the number will reach almost 4,000," said Lee.
More than 10,000 Bangladeshi expatriate workers are working in Korea now and they sent $209 million in remittances in FY2020-21.
Regarding FDI, the ambassador said Korea remains one of the major foreign investors in Bangladesh. Quoting Bangladesh Bank data, he said the accumulated stock of Korean FDI increased to $1.4 billion in FY22 from $1.1 billion two years ago.
"It means Koreans have invested at least $100 million per year in the last three years," he said, adding that in the case of the gross FDI flow in the first quarter of this year, Korea stands first with $150 million.
"This all shows how the relations between our two countries are growing," concludes Ambassador Lee.
Rezaul Karim Lotus, president of DCAB and AKM Moinuddin, general secretary also spoke at the programme.