Dhaka must stay active to avail duty benefits after LDC graduation: Speakers
BI Report || BusinessInsider
Published: 20:35, 26 July 2022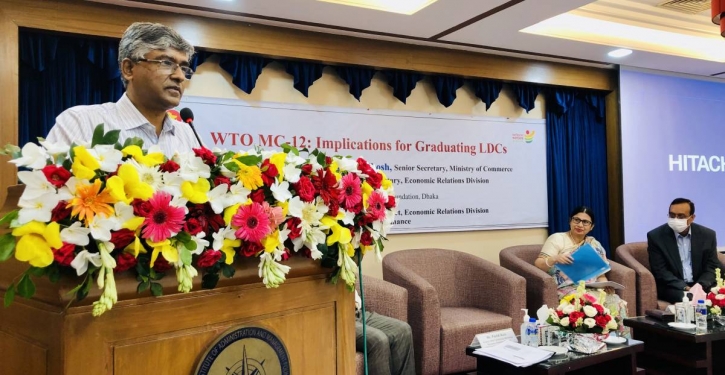 Photo: Collected
As Bangladesh is graduating into a developing nation, it is necessary to continue Dhaka's active participation in the negotiation process with the World Trade Organization to benefit from various international opportunities and avail duty advantages on the trade front, speakers said on Tuesday.
Their observations came at a seminar titled "WTO MC-12: Implications for Graduating LDCs" organised by the Support to Sustainable Graduation Project of the Department of Economic Relations at BIAM auditorium in the city.
Tapan Kanti Ghosh, senior secretary to the Ministry of Commerce, was present as chief guest in the inaugural session of the seminar. ERD Secretary Sharifa Khan presided over.
The seminar was organised to review the key discussions and decisions of the ministerial meetings of the World Trade Organization recently held in Geneva, Switzerland and the implications of the meeting in the context of Bangladesh's transition.
The speakers discussed how Bangladesh should prepare itself for the next World Trade Organization Ministerial Meeting or MC-13 with a view to continuing various international benefits in such contexts.
Tapan Kanti Ghosh said in the latest Ministerial Conference of the World Trade Organization, it has been recognised that there is a need to take certain steps for the smooth and sustainable transition of the countries graduating from LDCs. This is a great achievement for the transiting countries.
He said: "We need to continue discussions and negotiations at bilateral and multilateral levels to stay entitled for various international benefits in the post-transition period."
ERD Secretary Sharifa Khan said in the future the World Trade Organization will need to be reformed to adapt to the global situation and Bangladesh will have to actively participate in that reform process.
She emphasised on productivity enhancement, efficiency improvement and technology transfer to sharpen competitiveness of Bangladeshi products in the international market.
Md. Hafizur Rahman, Additional Secretary to the Ministry of Commerce and Director General of WTO Cell, presented the keynote in the seminar.
He said the proposal given by the LDC group for the 12th ministerial meeting of the World Trade Organization will be presented in the first meeting of the next General Council with necessary amendments.
Mostafa Abid Khan, former member of Bangladesh Trade and Tariff Commission, Ferdous Ara Begum, Chief Executive Officer of Business Initiative Leading Development (BILD) and Neshar Ahmed, International Trade Expert of SSGP project also spoke as panellists.