Support, vaccine, inflation, recovery key concerns for FY22: Citizen's Platform
BI Report || BusinessInsider
Published: 22:57, 8 August 2021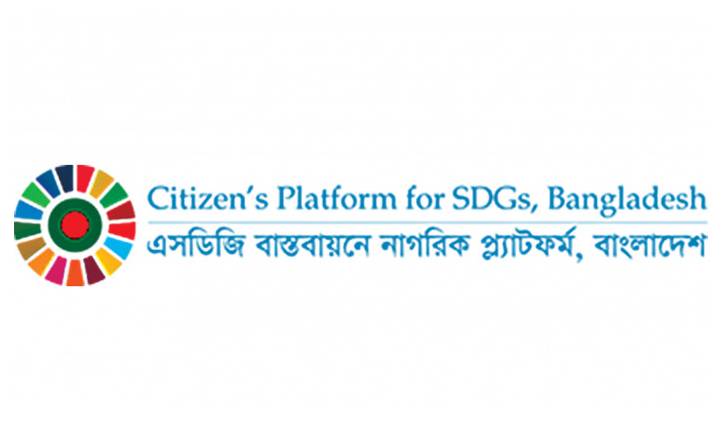 Citizen's Platform for SDGs, Bangladesh logo
Support, vaccine, inflation and recovery are the four key concerns for the ongoing fiscal year 2021-22, Citizen's Platform for SDGs, Bangladesh has pointed out.
Convener of the platform Dr Debapriya Bhattacharya came up with the analysis from the perspective of the UN agenda 'Leave No One Behind (LNOB)' at a virtual programme on Sunday.
Titled 'Delivery of the National Budget 2021 in the Context of the Pandemic: Ensuring Interests of the Disadvantaged People', the event discussed different budgetary issues, said a press release.
Expanding the fiscal transfer and food support, and ensuring their proper delivery with upgrading the database and engaging the community-based (non-government) actors are necessary now, Debapriya said in his keynote paper presentation.
He also stressed bringing the people of disadvantaged communities under the national vaccination programme on a priority basis.
The convener urged the government to make partnerships with the private development organisations to make mass vaccination a success.
"However, an unprepared and uncoordinated approach for mass vaccination has created chaos and confusion among the general people," he stated, adding that the government should act as per its capacity.
On inflation, Debapriya, also a distinguished fellow at the Centre for Policy Dialogue (CPD), said keeping the food prices low and stable by strengthening public procurement mechanism, open market sale (OMS) operation and expanding food-for-work (FFW) programmes are crucial now.
The economist also argued that another major concern is the pro-LNOB preparation for post-Covid recovery particularly for mopping up drop-outs, averting underage marriage, and preventing child labour.
The LNOB is the central, transformative promise of the 2030 Agenda for sustainable development.
In Bangladesh, the citizen platform is working from the perspectives of the LNOB which means the inclusion of marginalised and vulnerable groups of the society in the development process, the release said.