Bangladesh now a land of opportunities, Salman F Rahman tells NRBs in New York
Sheikh Sazid from New York || BusinessInsider
Published: 14:30, 27 July 2021 Update: 15:47, 27 July 2021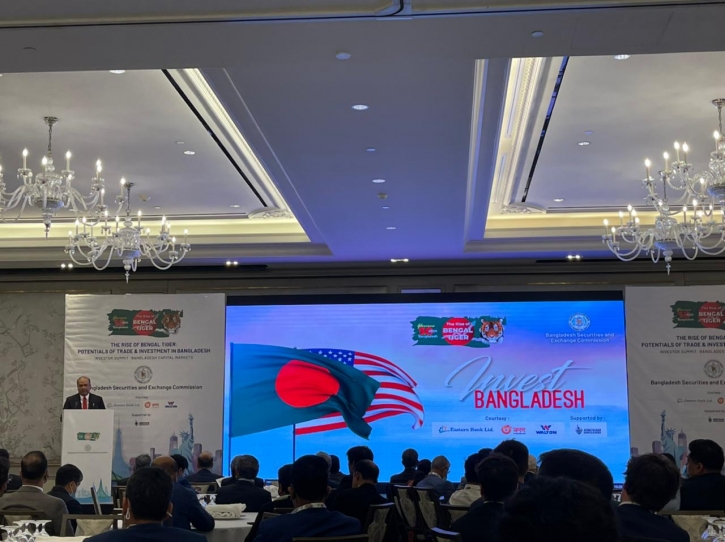 Photo: Business Insider Bangladesh
Bangladesh has been witnessing a robust economic growth – average nearly 7 percent for a decade – and its burgeoning foreign exchange reserves guarantee timely payments of profit repatriation by foreign portfolio investors, speakers said on Monday.
"There are many ways of investment opportunities in Bangladesh. Come and visit us as we are open for business," said Salman F Rahman, Prime Minister's advisor for private industry and investment, at a roadshow in New York.
As part of the Bangladesh Securities and Exchange Commission's (BSEC) efforts to attract foreign investors and non-resident Bangladeshis, the roadshow titled 'The Rise of Bengal Tiger: Potentials of Trade and Investment in Bangladesh' is being organised in four cities--New York, Washington DC, Los Angeles and San Francisco.
BSEC chairman, senior finance ministry officials, directors and Dhaka Stock Exchange and CEOs of a number of banks and merchant banks attended the promotional campaign that highlighted Bangladesh's economic achievement and opportunities for investments.
"You are our ambassadors here. You can promote your country here," Salman told non-resident Bangladeshis in New York.
He said the government is investing billions of dollars in infrastructure and megaprojects to turn Bangladesh into a developed country by 2041. He said Cox's Bazar is becoming an investment hub.
"Fibre optic is reaching out to remote villages and in 3 to 4 yours Bangladesh can earn $5bn from freelancing," said Salman.
Arif Khan, vice chairman of Shanta Asset Management Limited, presented a keynote paper, where he highlighted the country's major economic indicators and stock market as well.
He said there are many good stocks that can generate 15%-20% return a year for the next five years. Also, BSEC is developing a bond market, which will meet the demand for long-term financing for businesses.
He, however, said DSE has to introduce modern technology in the market.
BSEC Chairman Prof Shibli Rubayat-Ul-Islam and Executive Chairman of BIDA Sirazul Islam also spoke among others at the event.
At the end of the programme, some NRBs queried about investment opportunities in Bangladesh. One of them said they don't get adequate shares for their applications.
"If I apply to buy Tk 2 lakh worth shares, I get Tk 20,000's shares," he said adding if it can be increased more NRBs will be interested to invest in Bangladesh's stock market.