Lockdown-driven sluggishness at port may worsen container gridlock
Shahenoor Akther Urmi || BusinessInsider
Published: 23:31, 24 July 2021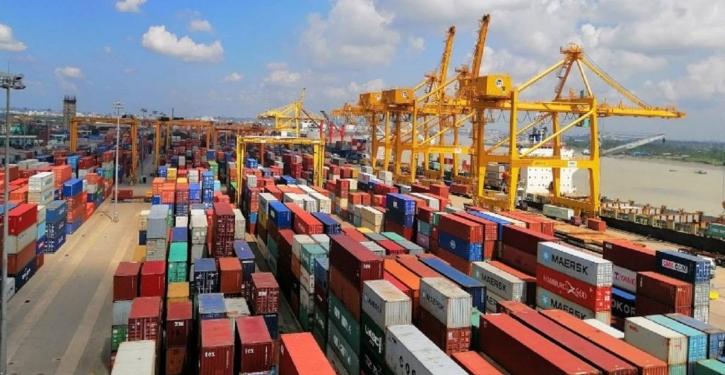 A view of Chattogram port. Photo: File
Importers are least interested in taking their raw materials elsewhere amid the ongoing strict lockdown. They said movement of workforce has come to standstill, complicating all work in and outside the Chattogram Seaport.
Port users and authorities fear that looming container congestion may be visible within a week due to sluggish activities.
Closure of garment factories and other industrial plants due to 14-day nationwide lockdown might create a space crisis in the Chattogram Port, worsening the container jam in the yards.
"We have requested BGMEA and BKMEA members to take their raw materials and accessories away, immediately, and store those in their own warehouses to minimize the gridlock," said Omar Faruk, Secretary of Chattogram Port Authority.
Faruk said the Port authority has urged the National Board of Revenue (NBR) via the Shipping Ministry to allow containers for two months inside terminals and depots without tax, because of such an unprecedented situation.
Container congestion created more than a month ago, could not be cleared. And, imports from other countries are occupying port space, pushing containers to get jammed, officials said.
Meanwhile, the Chattorgam Port is handling 3,000-3,500 containers (TEUs) daily and due to lockdown the management of containers is getting slower. As a result, authorities might face some space shortage in the middle of the lockdown. Till date, there are 42,000 containers already piled up in the port yards against the total capacity of 49,000 containers respectively.
Omar Faruk said if the handling goes down to 1,500 containers (TEUs) per day, the Port will face space shortage within a week, endangering the port operations.
Export-import is a sequential process that involves port, customs, shipping agents, C&F agents, freight-forwarders, Container Terminal and some government and private organizations. "The circle is going to break down if one of them is not working," he explained.
Syed Nazrul Islam, First Vice president of BGMEA said closure of production due to the incumbent lockdown may interrupt winter orders. It may delay shipment.
"If we fail to ship in accordance with the work orders, our buyers will get an excuse to demand 'discounts', 'air shipment' or 'quantity cancelation", he said.
Islam, who is the director of Well Group, said the lockdown and Eid vacation already have delayed their production.
"After expiring of the lockdown if the factories open, workers need another 15 days to stay under quarantine (those who are visiting villages), which will cause one month delay in production," Islam said.
Due to container congestion at the transshipment ports, Bangladesh's apparel exporters paid various expenses and this lockdown is like "rubbing salt on our wounds."
The BGMEA leader urges the government to allow "us to start a small production with staying-in-Dhaka workers, to mitigate the losses and improve total production before the shipment deadline."
"The Chattogram Port and Metropolitan Police provided some ID cards and stickers to the port officials. So the officials are able to move," said Kazi Mahmud Imam Bilu, First Joint General Secretary of C&F Agent Association.
If the raw materials containers are not released from the port in a week, the feeder vessel will have to wait in the outer anchorage, he said.
Lack of workforce due to lockdown, BGMEA and BKMEA members are not able to release their goods and take those to their stores. On top of that, their warehouses are also full with raw materials due to a halt in production, exporters said.
M Mahabubul Alam, President of Chittagong Chamber of Commerce and Industry (CCCI) said, "We will talk to the Commerce and Shipping Ministry about the container gridlock and its possible alternatives."
If the Chattogram Port is going to stop its operation, the whole economy will collapse within a short time, feared the CCCI president.
He said CCCI was already in touch with the Deputy Commissioner of Chattogram asking for its help for releasing perishable goods from the port amid the lockdown. "He has agreed to help us."