Owners still look for leeway to reopen RMG factories early
Jannatul Ferdushy || BusinessInsider
Published: 19:40, 24 July 2021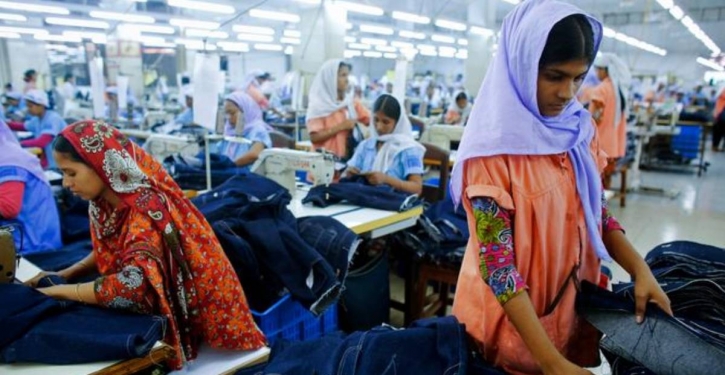 A view of a garment factory. Photo: File
Apparel exporters said they may consider extending holidays for their workers if the government doesn't allow them any leeway to reopen their factories amid the 2-week lockdown.
The issue came to surface as the factory owners allowed their workers Eid holidays until July 30, while the lockdown will expire on August 5. And, a good number of workers were trying to return to their messes. The fresh lockdown was imposed across the nation on July 23.
"Though we will face huge challenges with shipment of apparel products, the safety of workers is our top priority," said Md Shahidulla Azim, vice president of BGMEA and managing director of Classic Fashion Concept.
"If the government doesn't take a lenient approach like the previous ones when we were allowed to run factories provided that workers would wear face masks and maintain social distances, we will have to extend the leave," he told the Business Insider Bangladesh.
However, Bangladesh Garment Manufacturers and Exporters Association has "instructed workers to be prepared for joining factories on August 1," Azim said.
Earlier, when the government declared another spell of 14-day lockdown from 23 July, BGMEA, Bangladesh Knitwear Manufacturers and Exporters Association (BKMEA), Bangladesh Textile Mills Association and other exporters tried to convince the government to allow them to run their factories.
But this time the government turned down their request.
Director of Human Resources of Ananta Apparels Limited, Mejbah Robin, said his company has granted the seamstresses 7-day leave. "We may extend the leave if the government wants us to do so. If our trade associations can get the approval for opening of the factories, we will start before August 5."
Proprietor of AAA TRIMS WORLD, Zainul Abedin said, "In fact we have nothing to do here but following the government decision. Hope, the government will reconsider our plea to this end."
Moreover, the trade associations are still lobbying with the government to reopen their factories on 1 August for what they said "smooth delivery of winter products."
The factory owners said they used to run their factories maintaining Covid-19 safety rules strictly, which is evident in the low infection rate among the workers.
N H Apparel, another export-oriented factory, allowed 6-day leave to their workers, while Cross Line Apparels 11-day, A K H Group 6-day, Al Muslim 17-day and AAA TRIMS WORLD for 11-day leave, respectively.
Abdul Matin Khan, Executive Magistrate under Narayanganj District Commissioner (DC) office, said, "Yes, a number of garment workers are returning to Dhaka as their leave for Eid will end in between July 26 and 30 July. But without the government's further instruction, we will not allow any factories to open in lockdown. We are instructed to make the lockdown successful."