Apparel workers granted 6–11 days leave despite 14-day lockdown
Jannatul Ferdushy || BusinessInsider
Published: 23:10, 19 July 2021 Update: 23:46, 19 July 2021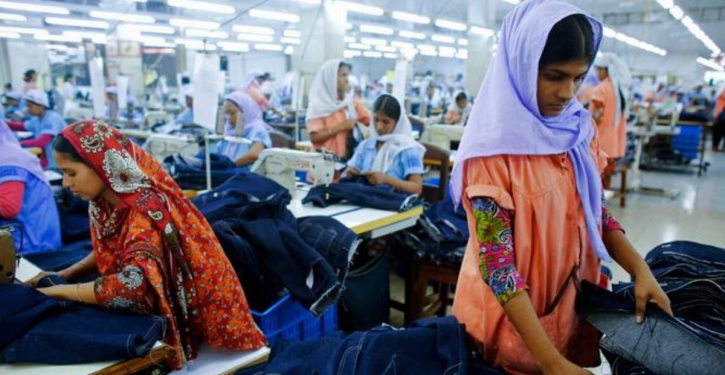 A view of a garment factory. Photo: File
Most of the apparel factories are granting seamstresses six to 11-day leave as the government rolls out 14-day lockdown, afresh, after Eid-ul-Azha festival.
Factory authorities did not grant the leaves for the full lockdown period as they are still lobbying with the government to keep their facilities open after the Eid festival.
The organisations, the Bangladesh Garment Manufacturers and Exporters Association, Bangladesh Knitwear Manufacturers and Exporters Association and Bangladesh Textile Mills Association are cajoling the government so that they can have uninterrupted production during the ensuing nationwide lockdown.
They are arguing that they have to manufacture products meant for Europe and North American winter season and that plenty of clothing work orders are pending.
Considering the high death and infection rates induced by Covid-19, the government has decided to shut down all the factories for two weeks from July 23, 6:00am after an eight-day break.
"If we shut down our factories, we may face cancelation of work orders already placed with us. It will increase our cost of production, because we have to ship our products by air. To catch the winter market, we must export the apparels by August," said Mohammad Hatem, the first vice president of BKMEA.
He was worried about workers getting infected during holidays in their respective villages. "When the workers will come back from villages, after Eid, they may infect others. We don't want to leave the workers for long for their safety."
Director of Human Resources of Ananta Apparels Limited, Mejbah Robin, said his company is approving the seamstresses 7-day leave. "We may extend the leave if the government wants us to do so," he told Business Insider Bangladesh on Monday.
Proprietor of AAA TRIMS WORLD, Zainul Abedin said, it depends on government permission, now we gave leave to the workers for 11days. If we get permission to open the factories during lockdown, it will start as soon as possible.
N H Apparel, another export-oriented factory, gives 6-day leave to their workers, while Ananta Group approves 7-day, Cross Line Apparels for 11-day, A K H Group 6-day, Al Muslim 17-day and AAA TRIMS WORLD for 11-day, respectively.
Meanwhile, most of the factories already paid all the dues and Eid bonuses to their workers. Rest of the factories were supposed to pay by Monday, manufacturers said.