Trawlers carrying cattle see lukewarm response from traders
Sakibul Azaz || BusinessInsider
Published: 17:17, 19 July 2021 Update: 17:19, 19 July 2021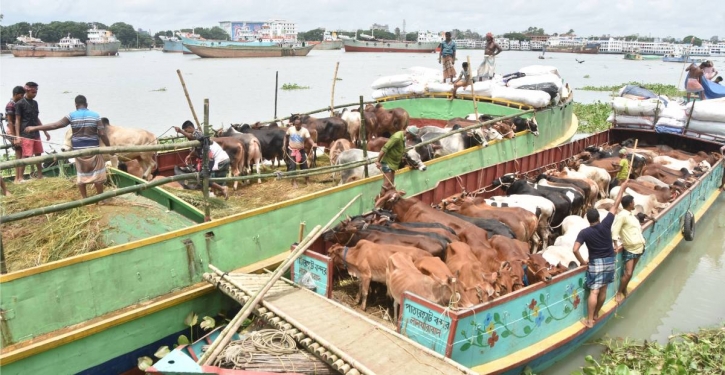 Trawler owners' income has fallen substantially this season. Photo: Business Insider Bangladesh
Every year more than one lakh of sacrificial animals are transported into Dhaka from different parts of the country by trawlers. The owners of those trawlers used to make some money by ferrying the animals ahead of Eid-ul-Azha festival.
But the case is different this year as not many cattle traders are interested in coming to the capital city, the country's largest place for selling of sacrificial animals, because of Covid-19 pandemic. So, the trawler owners' income has fallen substantially this season.
"There are around 20 traders in my area and they hire my trawlers to bring cattle to Dhaka every year. But this time they want to wait till Sunday night," said Yusuf Mia, hailing from Chandrapara Ghat of Faridpur district.
He has to make four trips a day to make the journey commercially viable. But this is not happening this year, a frustrated Yusuf told the Business Insider Bangladesh.
"We charged Tk 1,000 per bull to transport them to Dhaka, last year. But this time we are getting Tk 500 to Tk 600. Even then, I am trying to persuade them to get interested," Yusuf said.
Every year, trawler owners get busy transporting cattle heads for 7 days prior to Eid-ul-Azha. And, usually most of them do not ship other merchandise this season. But this year they are not able to earn a reasonable income through the transportation of sacrificial animals.
It is known that cow traders are reluctant to take the risk of extra cost of transporting back their animals in case sales fall. This creates a domino effect on the trawler owners because their vessels are booked for lower numbers of trips.
As a result, trawler owners are tempting the bull traders to bring their animals into Dhaka by reducing the transportation rents.
On Saturday (July 17) morning at Swarighat, cows were seen in freight trawlers coming from different districts such as Munshiganj, Faridpur, Rajbari, Pabna and Manikganj. However, according to the locals and traders of the pontoon, more trawlers with cows usually come to the pontoon at this time of the year.
"A bulk trawler comes to the city every 2 or 3 hours with 100 or 200 cattle heads on it. Had it been a normal period, at least two trawlers with 200 bulls would have arrived every hour," said Mohammad Ashraf, a caretaker of Swarighat pontoon along the Buriganga River.
"I heard that trawler owners are trying to motivate the cattle sellers in their neighboring districts so that they sail for Dhaka with lower fares," he added.
Abu Helal, who is stationed at Swarighat, said 120 cows were brought from Mirkadim pontoon, Munshiganj using his trawler on Saturday (July 17th) morning.
He said, "Usually in every year, I take Tk 1 thousand per cow to fetch in Dhaka. But this year those regular cattle sellers are still waiting and not making a prompt decision. But, I can't sit relaxed because I need to make a trip, It's my income. Finally it's my loss. So I managed Shukur Ali to come today by convincing him with 600 Tk for fetching a cow."
Stakeholders said Covid-19 pandemic has ruined all businesses, including the river transports.
Shukur Ali, the cattle seller next to him, told this reporter "I did not want to bring my bulls today. I would be anxious if all my cows were not sold this year. Later, brother Helal gave me courage. He said his trawler was empty and that I can ship my cows with less fare."
Business Insider Bangladesh learned that fetching a cow generally cost a farmer Tk 1,000 to Tk 1,200. And, during the Eid season, they make at least 4 to 6 trips a day.
This time the trawler owners' have cut the ferrying tariff to half.