Traders see a flat cattle market in city
BI Report || BusinessInsider
Published: 03:02, 19 July 2021 Update: 03:35, 19 July 2021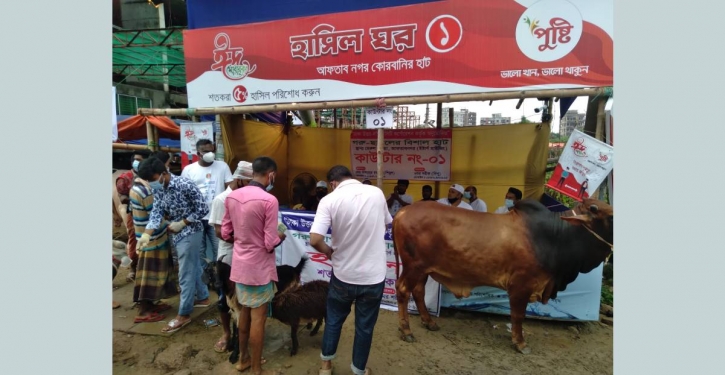 Sacrificial animal markets are away from firing up in the city as the traders took a 'wait and see policy' before bringing swarms of cattle, fearing bulls may remain unsold amid Covid-19 inflicted Eid-ul-Azha festival. Photo: Business Insider Bangladesh
Sacrificial animal markets are away from firing up in the city as the traders took a 'wait and see policy' before bringing swarms of cattle, fearing bulls may remain unsold amid Covid-19 inflicted Eid-ul-Azha festival.
Leaseholders and wholesalers, however, believe bullish cattle markets may thrive from Monday.
This correspondent found rows of sacrificial animals tied to stakes in the largest cattle head market of Aftabnagar, in the city. However, the market lacked crowds in a traditional sense.
Rafiqul Islam, a devotee who came from Rampura in the city complained that prices were a bit high. "The seller asked Tk 140,000 for a bull that I chose. I offered Tk 110,000. He turned down," said Rafiqul.
Gius Uddin, a farmer of Faridpur brought 16 bulls into the market. He could sell only three. "I am being offered a very low bargain," said Gius.
One Islam, hailing from Shariatpur got nearly 100 goats. He sold only 4 until Sunday afternoon.
A huge Brahman bull of Dinajpur was the centre of many devotees' attractions. The bull---weighing some 800 kilograms---was being bargained at Tk 400,000. Bakul, the owner of the bull, was asking Tk 600,000.
Although sales did not accelerate, truckloads of animals were entering the market.
A man who was given the duty to collect 'Hashil' of each transaction, said sales will rise from Monday.
It was saddening to see that the leaseholders are only shouting in the loudspeaker to maintain COvid-19 health rules and wear masks, but a few responded. There was none on the ground who could enforce the social distancing rule, a crucial norm to mitigate coronavirus infection.
Business Insider found cattle shoppers put their masks under their nostrils and there were only three hand sanitizing points but no hand washing arrangement in the entire market. Such an arrangement is a clear violation of Covid-19 health rules.
Islam, a leaseholder, said, "We are monitoring if or not the people wearing face masks.
He said, "The cattle wholesalers are not listening to us. We are trying hard to make them understand the importance of using masks properly. And, it is very difficult to maintain social distance in this market."