New sectors cut overdependence on RMG exports
BI Report || BusinessInsider
Published: 22:07, 5 July 2021 Update: 22:12, 5 July 2021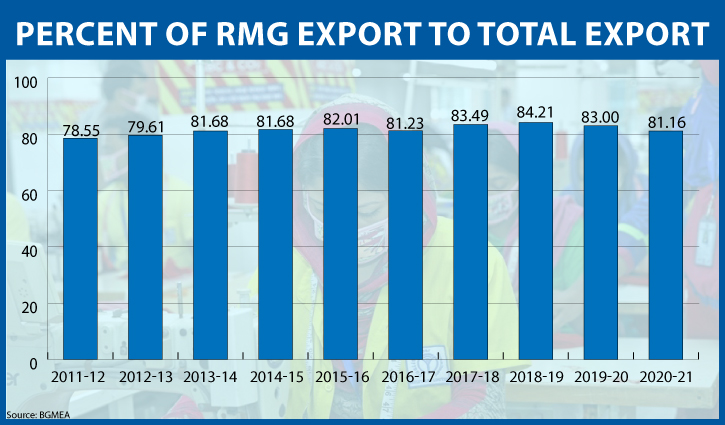 Photo illustration: Business Insider Bangladesh
Bangladesh's overdependence on readymade garments is a much-talked-about issue for years. But this year's export performance can give a boost to those who are concerned with always seeing this dependence as a big challenge.
Export Promotion Bureau released export data for the fiscal year 2020-21 on Monday where it said that Bangladesh bagged $38.76 billion, which was higher by over 15 percent from the last year, but down by 5.47 percent from the target of $41 billion.
Knitwear export played the key role in driving this growth as it fetched $16.96 billion, up by nearly 22 percent than the last year. Woven export also saw 12.55 percent growth to hit nearly $14.50 billion.
Interestingly, the share of garment exports to total exports has declined significantly in the last year.
Data show, out of Bangladesh's total exports of $38.76 billion for the FY21, RMG accounted for over $31.45 billion or 81.16 percent of total export.
According to BGMEA data, RMG's share of total exports was 83 percent in the FY20, 84.21 percent in the FY19 and 83.49 percent in the FY18.
Thanks to some new sectors that have earned over a billion US dollars from export in the last fiscal year.
The sectors are: Jute and jute goods, home textile and agriculture products.
Bangladesh earned $1.17 billion from export of jute and jute goods, up by nearly 32 percent from the last year. Home textile saw the biggest jump as its export grew by over 49 percent to $1.13 billion, while export receipts from agricultural products crossed the $1 billion-mark for the first time in the country's history.
"This is a very positive sign that new products are coming into the export basket," said Faruque Hassan, president of the Bangladesh Garment Manufacturers and Exporters Association (BGMEA).
"We should diversify our export products for the sake of the country. It is a very promising sign that each of the three sectors have exported over a billion US dollars," Hassan told the Business Insider Bangladesh on Monday.