Exports fetch $38.76bn in FY21, knitwear recovers enormously
Traders optimistic about overcoming Covid-19 fallout
BI Report || BusinessInsider
Published: 04:02, 6 July 2021 Update: 04:10, 6 July 2021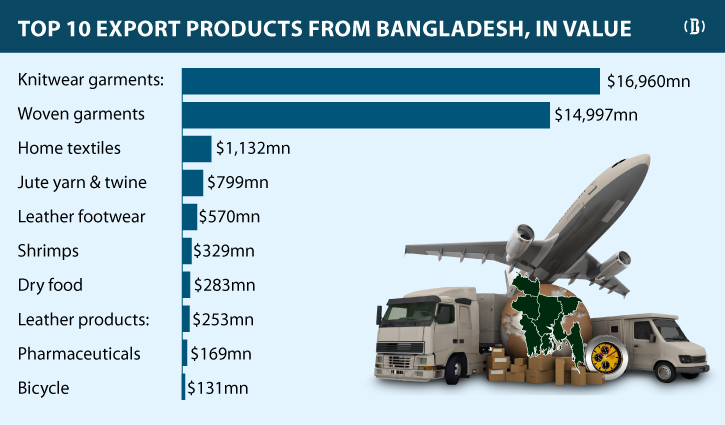 Photo illustration: Business Insider Bangladesh
Exporters said they are optimistic that Bangladesh will recover its export trade to the pre-Covid-19 level given that the government keeps supporting the factories and international markets continue opening.
Though the country's export earnings rose over 15 percent in FY 2020-21, it fell short of the target the government had set at the beginning of the fiscal year.
Bangladesh's export stood at nearly $38.76 billion, in the just concluded financial year, down by 5.47 percent from the $41 billion target.
Knitwear export drove the growth as it fetched $16.96 billion, up by nearly 22 percent, and the figure reached the pre-Covid level. Woven clothing exports also saw a 12.55 percent growth to hit nearly $14.50 billion.
EPB data shows, most of the products Bangladesh had shipped last fiscal year saw various levels of growth compared to that of a year ago.
Of the products, home textiles witnessed a whopping 49 percent growth to reach $1.13 billion. Home textiles, jute and jute goods and agro products are three major products that earned over a billion dollars each from exports after knitwear and woven apparels.
"This is a very good export performance considering the pandemic fallout and price decline globally," Faruque Hassan, president of the Bangladesh Garment Manufacturers and Exporters Association (BGMEA), told Business Insider Bangladesh.
He thanked the workers and the government for their continued support and "without that it was not possible to achieve that feat."
Hassan said knitwear trade has already matched with the pre-Covid stage, expressing his hopes that woven shipments will also regain their pre-Covid status by October this year.
Mohammed Hatem, president of the Bangladesh Knitwear Manufacturers and Exporters Association (BKMEA), said knitwear exports accomplished at least 15 percent growth this fiscal year.
"Demand for informal dresses and switching of orders from India and Myanmar will help Bangladesh boost its export growth," said Hatem.
Ahsan H Mansur, executive director of Policy Research Institute (PRI), a private think tank, said, export is still lower than that of 2018-19.
"However, it is a good sign that we are overcoming the pandemic impacts," Mansur told Business Insider Bangladesh.
He said continued government support and keeping the factories out of the lockdown have helped export industries perform well. Opening up of global markets is also another positive sign for Bangladesh's exporters, he noted.
The economist, however, found some weaknesses and risks, such as poor port conditions, rising shipping cost and spiralling raw material prices that may hinder Bangladesh's outbound shipments from its highest potential.